3-Step Teriyaki Shish Kebabs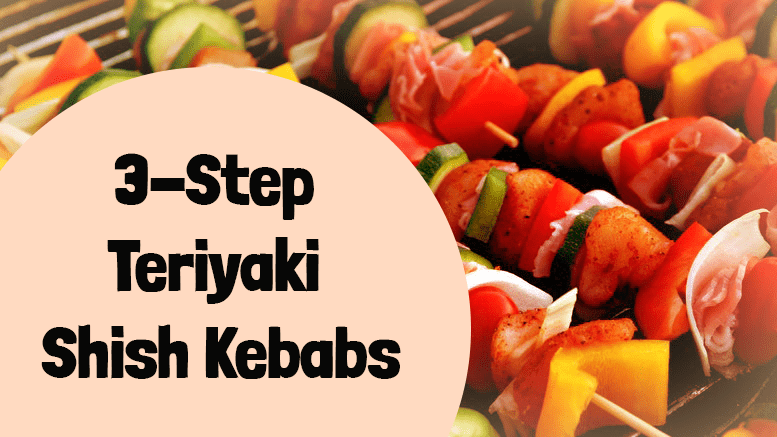 Qmee has finally unearthed the answer to the ancient prophecy "Shish Kebabs or Sheesh, I can't believe I've never made these kebabs"… It's both! Okay, okay, it's not ancient, nor a prophecy, but it is a mighty good point, why not have both!? This 3-step teriyaki shish kebab recipe will leave you wondering whether it was specially crafted for your tastebuds! 
What you'll need:
1 cup sugar
1 cup reduced-sodium soy sauce
1 cup ketchup
2 teaspoons garlic powder
2 teaspoons ground ginger
2 pounds beef top sirloin steak, cut into 1-1/2-inch cubes
2 to 3 small zucchini, cut into 1-inch slices
1/2 pound medium fresh mushrooms
1 large green or sweet red pepper, cut into 1-inch pieces
1 small onion, cut into 1-inch pieces
2 cups cubed fresh pineapple
What you'll need to do:
Step 1:
For marinade, mix first 5 ingredients. In a large bowl or shallow dish, add half the marinade and the beef; turn to coat. Cover and reserve remaining marinade. Cover and refrigerate beef and marinade overnight.
Step 2:
On metal or soaked wooden skewers, thread vegetables and, on separate skewers, thread beef with pineapple. Discard remaining marinade from beef bowl. Grill kabobs, covered, over medium heat until vegetables are tender and beef reaches desired doneness, 12-15 minutes, turning occasionally.
Step 3:
In a small saucepan, bring reserved marinade to a boil, stirring occasionally; cook 1 minute. Remove vegetables, pineapple and beef from skewers before serving. Serve with sauce.
(Source)