Qmee Recipes – Chunky guacamole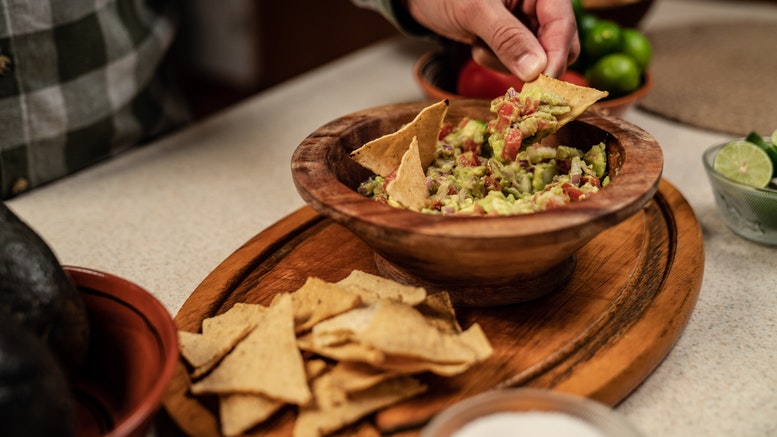 This week, we gave you some tips for hosting a party on a budget. This got us thinking about party food! Well, what's the best party snack – chips & dips! A homemade guacamole dip is a really great addition to food you can put out for an event. But this recipe is so good you won't want to share!
Serves 8
What you'll need…
1 large ripe tomato
3 avocados, very ripe but not bruised
juice 1 large lime
handful coriander, leaves and stalks chopped, plus a few leaves, roughly chopped, to serve
1 small red onion, finely chopped
1 chili, red or green, deseeded and finely chopped
tortilla chips, to serve
What you'll need to do…
-Use a large knife to pulverize 1 large ripe tomato to a pulp on a board, then tip into a bowl.
-Halve and stone the 3 avocados (saving a stone) and use a spoon to scoop out the flesh into the bowl with the tomato.
-Tip the juice of 1 large lime, a handful of roughly chopped coriander, 1 finely chopped small red onion and 1 deseeded and finely chopped red or green chili into the bowl, then season with salt and pepper.
-Use a whisk to roughly mash everything together.
TIP – If not serving straight away, sit a stone in the guacamole (this helps to stop it going brown), cover with cling film and chill until needed.

This guacamole would also go really well with these vegetarian fajitas!
(Source: https://www.bbcgoodfood.com/recipes/best-ever-chunky-guacamole)