Easy Thanksgiving Apple Stuffing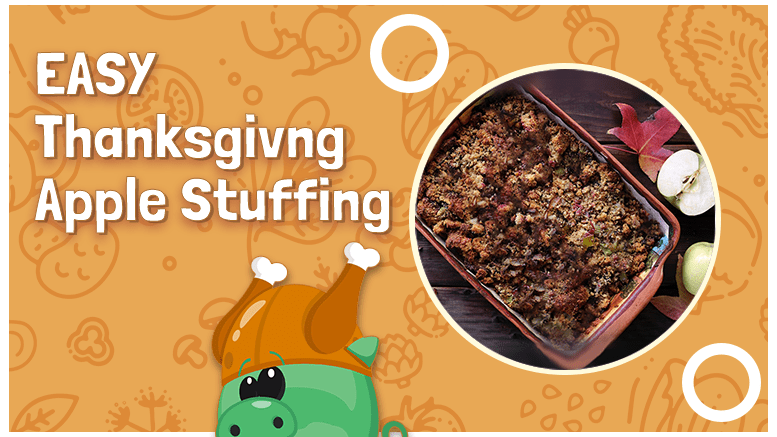 We all know Thanksgiving wouldn't be the same without the stable bowl of stuffing on the side, right!? But let's just take a moment to entertain the thought that you MAY want to get a little more creative with it. That's where this remarkably easy & delicious apple stuffing steps in to blow your socks off!
What you'll need:
1 lb. sourdough, cut or torn into 1″ pieces
4 tbsp. butter, melted
1/2 tsp. kosher salt
Freshly ground black pepper
2 tbsp. extra-virgin olive oil
1 medium yellow onion, chopped
2 stalks celery, chopped
1 tsp. freshly chopped rosemary
2 Granny Smith apples, peeled, cored, and chopped
1/2 c. dried cranberries
1/2 c. sliced almonds
1 1/2 c. low-sodium chicken broth
What you'll need to do:
Step 1
Preheat the oven to 350°F. Place bread in a large bowl and toss with melted butter, salt, and a few cranks of black pepper. Spread onto a large baking sheet and bake until bread is toasted, about 15 to 20 minutes.
Step 2
In a medium skillet over medium heat, heat oil. Add onion, celery, and rosemary and cook until vegetables are soft, 5 minutes. Season with salt and pepper.
Step 3
In a large bowl combine the toasted bread, vegetables, apples, cranberries, and almonds. Add the broth and toss the ingredients, to fully coat the bread. Transfer the mixture to a 9×13" baking pan and cover it with foil.
Step 4
Bake for 30 minutes, then remove the foil and bake it until the top is golden, then bake it for a further 30 minutes.
(Source)