Halloween Popcorn Treats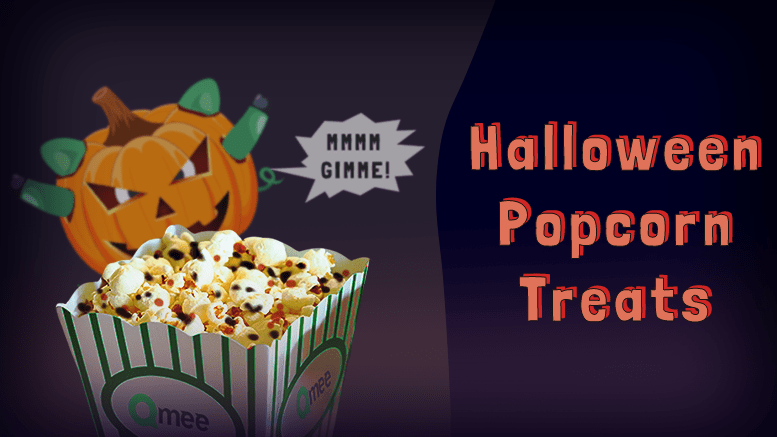 Boo! Did we get you!? If not, we have an even spookier proposition for you; what's scarier than popcorn!? Most things, fair point. ooOoO kerrrnallls… still nothing? Okay. Well even so, do you know what's tastier than Halloween popcorn treats? NOTHING!
We don't know witch way you'll be celebrating Halloween this year, but these tasty treats are sure to keep your spirits up throughout!
What you'll need:
Vegetable cooking spray
3 tbsp vegetable oil
50g popcorn kernels
45g butter
1 tsp pure vanilla essence
340g mini marshmallows
3 (7 1/2cm) chocolate chip cookies, crumbled
50g chopped salted almonds
75g orange and black chocolate sweets (such as M&Ms)
What you'll need to do:
Step 1:
Spray the inside of a large mixing bowl with vegetable cooking spray, and lightly spray a baking sheet, then set them aside.
Step 2:
In a 3 litre (or larger), heavy-bottomed pan, heat the oil and the popcorn over a medium-high heat, then cover the pan and gently shake it.
Step 3:
Cook the popcorn until all the kernels have popped (about 3 mins). Then, place the popcorn in the prepared bowl.
Step 4:
In a medium saucepan, heat the butter over low heat. Next, add the vanilla essence and marshmallows and stir constantly until the marshmallows have melted and the mixture is smooth (about 5 mins).
Step 5:
Pour the melted marshmallow mixture over the popcorn. Using a spatula sprayed with cooking spray, stir until the popcorn is coated and spread the mixture over the prepared baking sheet. Then, sprinkle chocolate bar pieces, cookies, almonds and sweets over the top.
Step 6:
Using a spatula, gently press the toppings into the popcorn and allow the mixture to dry for 1 hour. Next, break it into 5cm pieces and store them in an airtight plastic container.
(Source)