Qmee Recipes – Herby chicken gyros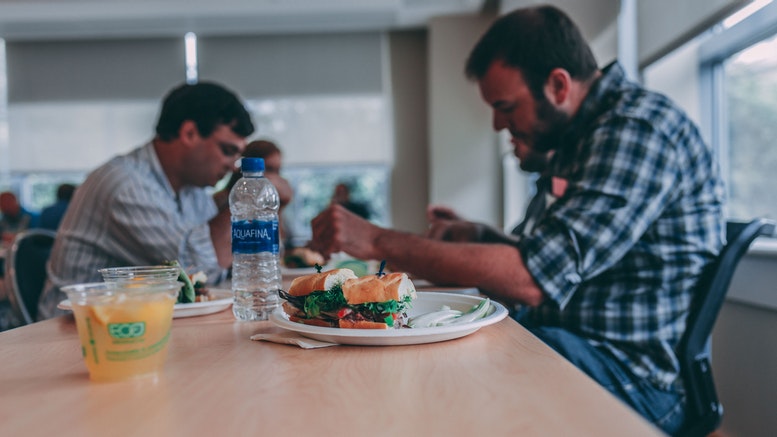 A lot of us have to make packed lunches either for ourselves or for our families. Coming up with exciting things that you can have the next day can seem like hard work, especially when you're bored of eating the same things. So, this week we've found an exciting lunch recipe that can still be super convenient to eat on the go: herby chicken gyros!
Sandwiches not your thing? Check out this recipe for a tasty summer salad!
Serves 2
What you'll need…
1 large skinless chicken breast
rapeseed oil, for brushing
small garlic clove, crushed
½ tsp dried oregano
2 tbsp Greek yogurt
10 cm piece cucumber, grated, excess juice squeezed out
2 tbsp chopped mint, plus a few leaves to serve
2 wholemeal pitta breads
2 red or yellow tomatoes, sliced
1 red pepper from a jar (not in oil), deseeded and sliced
What you'll need to do…
-Cut the chicken breast in half lengthways, then cover with cling film and bash with a rolling pin to flatten it.
-Brush with some oil, then cover with the garlic, oregano and some pepper.
-Heat a non-stick frying pan and cook the chicken for a few mins each side.
-Meanwhile, mix the yogurt, cucumber and mint to make tzatziki.
-Cut the tops from the pittas along their longest side and stuff with the chicken, tomato, pepper and tzatziki.
-Poke in a few mint leaves to serve.
TIP: If taking to the office for lunch, pack the tzatziki in a separate pot and add just before eating to prevent the pitta going soggy before lunchtime.

(Source: https://www.bbcgoodfood.com/recipes/herby-chicken-gyros)