Qmee recipes – last minute coffee & walnut cake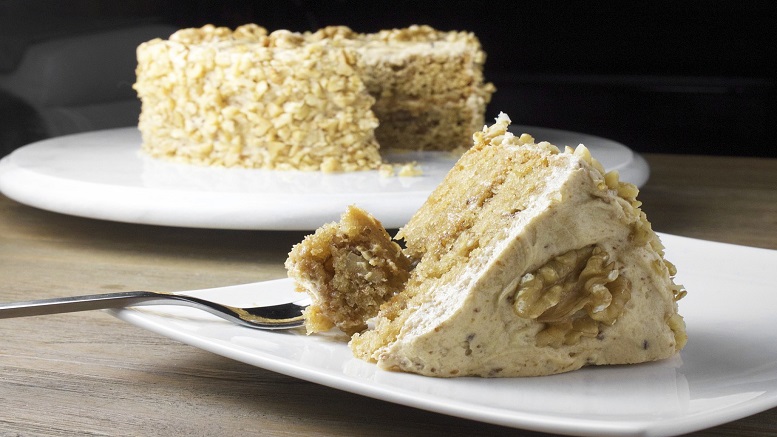 This is a super-quick and easy recipe for the perfect last-minute coffee and walnut cake, made in the microwave. If you need a sweet treat to offer when your friends or family pop over without giving you the "heads-up", give this a go!
Take a look at the ingredients you'll need and the method you'll need to follow.
Here's what you'll need…
85g (2/3 cups) very soft butter
85g (2/3 cups) golden caster sugar
2 eggs, beaten
85g (2/3 cups) self-raising flour
2 tsp instant coffee powder
Small handful of walnut pieces (optional)
For the buttercream:
1 tsp instant coffee powder
1 tsp milk
25g (1/4 cups) very soft butter
100g (2/3 cups) icing sugar
Here's what you'll need to do…
1.In a medium bowl, beat the butter and sugar together until light and fluffy.
2.Gradually add the eggs followed by the flour and instant coffee.
3.Stir most of the walnuts (if using) into the batter, reserving a few for decoration.
4.Transfer to a microwave-proof dish and cook in the microwave on full power for 2 mins. Reduce the power to medium and cook for 2 mins.
5.After 4 mins, check to see if the cake is cooked – it should be risen and spring back when touched. If it needs a bit longer, cook on medium for 1 min more at a time, checking after each minute until the cake is cooked. Remove and allow to cool.
6.Meanwhile, make the coffee butter cream. Dissolve the coffee in the milk, then add the butter and icing sugar. Beat until smooth, spread over the cake and top with the reserved walnuts.
(Source: https://www.bbcgoodfood.com/recipes/microwave-coffee-walnut-cake)