Qmee recipes: quick & easy! Garlic lamb with peppers & couscous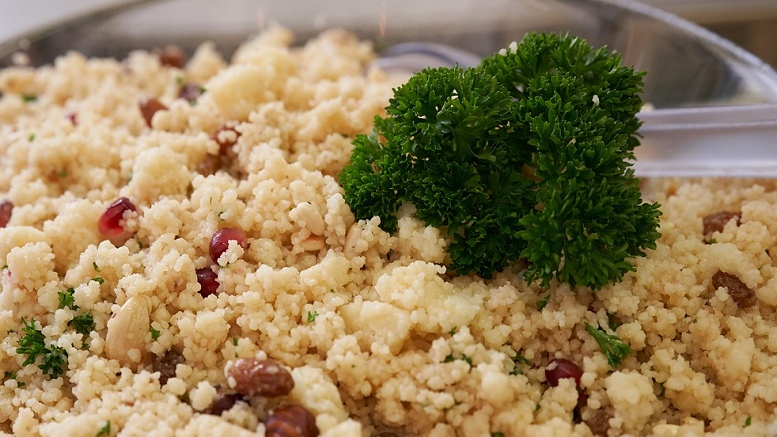 Quick, impressive and bursting with Mediterranean flavour! Garlic lamb with peppers & couscous is an absolutely delicious meal that's great for a quick dinner for the whole family. As it doesn't take long to make, it's also perfect for lunch if you're working from home and fancy something flavourful!
Take a look at the ingredients you'll need and the method you'll need to follow.
Here's what you'll need…
2 x 110g packets (1/2 cup) flavoured couscous (or plain)
50g (1/2 cup) bought or homemade garlic butter
2 tbsp olive oil
4 lamb leg steaks
250g (2 cups) roasted pepper strips from the deli, or jar roasted pepper strips, drained
20 Kalamata olives
Handful mint or flatleaf parsley
1 lemon
4 tbsp toasted flaked almonds
Here's what you'll need to do…
1.Put the kettle on to boil and tip both packets of couscous into a heatproof bowl. Melt the garlic butter in a frying pan over a medium heat with a tablespoon of the oil. Add the lamb steaks and fry for 4 minutes on each side. Pour 400ml/14fl oz boiling water over the couscous, stir in the remaining oil and set aside to absorb.
2.Tip the peppers and olives into the pan with the lamb. Roughly chop the herbs, add and continue cooking until the lamb is cooked. Squeeze in the lemon juice, season.
3.Toss the almonds into the couscous and spoon on to serving plates. Top with the garlic lamb, peppers, olives and juices, and serve.
(Source: https://www.bbcgoodfood.com/recipes/garlicky-lamb-peppers-couscous)