Qmee Recipes – Sticky toffee banana bread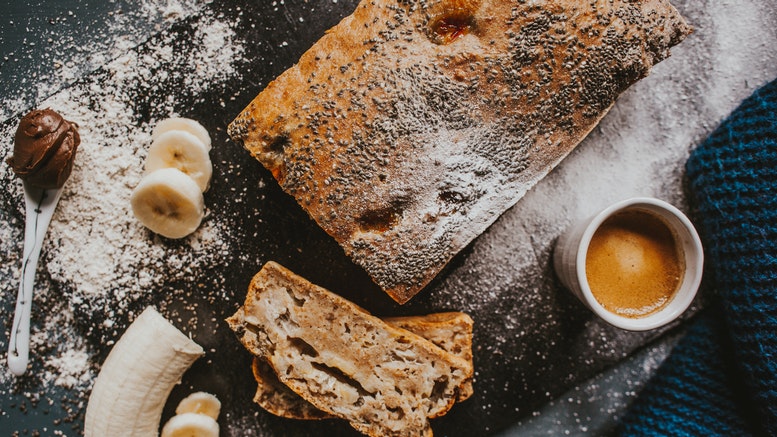 After buying lots of healthy food with good intentions for the new year, you might've found that you have some fruit that needs to be eaten before it goes off. Instead of giving you a super healthy recipe, we thought 'best not waste that fruit'. So, we've got a recipe for sticky toffee banana bread instead – yum!
What can we say, it's not that we're bad at eating healthy, we just wouldn't want to see that fruit go to waste… But, if you do want something a little healthier than what we're offering today, check out this recipe for veg and lentil soup!
Serves 10
For the banana bread…
½ cup soft butter, plus extra for the tin
⅓ cup caster sugar
⅓ cup dark brown soft sugar
3 medium eggs
2 large ripe bananas , mashed
¼ cup natural yogurt
1 ¾ cup plain flour
2 tsp baking powder
10 pitted dates, chopped 
½ cup pecans or walnuts, chopped (or mixed chopped nuts)
For the toffee sauce…
½ cup light brown soft sugar
2 tbsp butter, cut into cubes
½ cup double cream
For the banana & nut brittle…
½ cup caster sugar
½ cup pecan or walnuts (or mixed nuts)
¼ cup banana chips
½ tsp sea salt flakes
To make banana bread…
-Heat the oven to 160C/140C fan/gas 3.
-Butter and line a 900g loaf tin with a strip of baking parchment.
-Beat the butter and both sugars in a bowl for 5 mins with an electric whisk until really fluffy.
-Whisk the eggs, banana and yogurt in a separate bowl until mostly smooth, then whisk this into the butter and sugar mixture.
-Fold in the flour and baking powder until just combined, then fold in the dates and nuts.
-Spoon into the tin, smooth over the top and bake for 1 hr-1 hr 15 mins until a skewer inserted into the middle comes out clean.
-Leave to cool in the tin for 10 minutes, then lift out using the strip of parchment.
-You can serve it warm now, or leave to cool completely on a wire rack.
TIP: Will keep for four days in an airtight container.
To make the toffee sauce…
-Put the sugar in a heavy-based frying pan and melt over a medium-low heat until light golden brown and liquid – don't stir, just tilt the pan to melt the sugar.
Carefully whisk in the butter until smooth, then pour in the cream slowly and bring to a bubble.
-Mix until the sauce is smooth and shiny.
-Pour into a heatproof bowl, cover and leave to cool to room temperature.
To make the brittle…
-Put the sugar in a frying pan with 2 tbsp water over a medium heat, stir briefly, then simmer for 10 mins until the caramel turns amber.
-Don't stir after the initial mix, just tilt the pan to get an even deep golden colour.
-Meanwhile, line a baking tray with baking parchment.
-Carefully stir the nuts, banana chips and salt into the caramel, until well coated, then pour onto the tray.
-Tip the tray (or use a spoon) to make sure the nuts are in a single layer – or they will be harder to separate later.
-Leave to cool completely before breaking the brittle into shards.
Putting it together…
-Stir the toffee sauce to loosen if it's become stiff, or warm for a few seconds in the microwave (add a splash more cream if you need to), then drizzle over the cake so it drips down the sides.
-Top with the shards of brittle.
TIP: Will keep for two days in an airtight container.
Now all that's left to do is enjoy the banana bread!
(Source: https://www.bbcgoodfood.com/recipes/sticky-toffee-banana-bread)