Succulent Sunday Brunch Casserole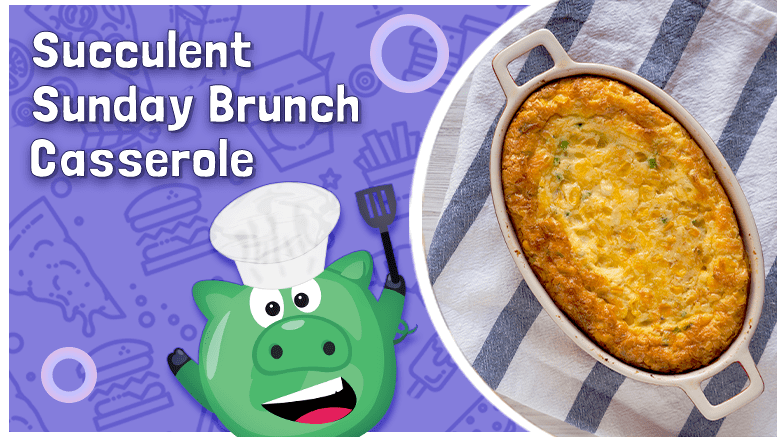 If you're tired of the same old boring brunch options, it's time to spruce things up with this succulently simple Sunday brunch casserole, it will have your guests begging for seconds (and maybe even thirds, if you're not already arguing over who gets the last bite!).
What you'll need:
1 ½ pounds thick sliced bacon
½ cup chopped sweet onion
½ cup chopped red bell pepper
12 eggs
1 cup milk
1 (16 ounce) package frozen hash brown potatoes, thawed
1 cup shredded Cheddar cheese
1 teaspoon salt
½ teaspoon ground black pepper
¼ teaspoon dried dill
What you'll need to do:
Step 1:
Preheat the oven to 350 degrees F (175 degrees C). Lightly grease a 9×13-inch baking dish.
Step 2:
Place the bacon into a large skillet and cook it over a medium-high heat, turning occasionally, until evenly browned,for about 10 minutes. Drain the bacon slices on paper towels; reserving 2 tablespoons of drippings in the skillet. Then, crumble bacon and set it aside.
Step 3:
Cook and stir the onion and bell pepper over a medium heat in the reserved drippings until tender for about 5 minutes, then, remove with a slotted spoon.
Step 4:
Whisk the eggs and milk in a large bowl. Fold the hash browns, Cheddar cheese, salt, pepper, dill, onion mixture, and crumbled bacon into the egg mixture. Then, transfer it to the prepared baking dish.
Step 5:
Bake in a preheated oven until a knife inserted near the center comes out clean (35 to 45 minutes).
(Source)