The Most ICONIC Swedish Meatballs & Cream sauce Recipe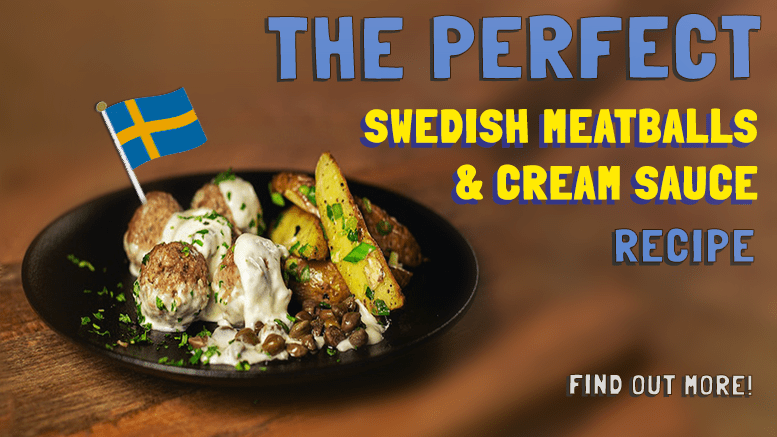 We know what you're saying… "But Qmee, surely you don't have a recipe for Swedish meatballs & cream sauce that can match that of an incredibly specific, and particularly famous Norsk furniture store with branding that looks exactly like their national flag!?", and to that we say "Åh, men det har vi gjort!". 💙💛💙
We think you'll be surprised to find out who the author of this recipe is! Honestly, you have no ikea, oops uhh we mean idea *wink wink, nudge nudge* 👀👀
What you'll need:
Meatballs
500g beef mince
250g pork mince
1 onion finely chopped
1 clove of garlic (crushed or minced)
100g breadcrumbs
1 egg
5 tablespoons of milk (whole milk)
Generous salt & pepper
Cream sauce
Dash of oil
40g butter
40g plain flour
150ml vegetable stock
150ml beef stock
150ml thick double cream
2 teaspoons soy sauce
1 teaspoon Dijon mustard
What you'll need to do:
Meatballs
Combine beef and pork mince and mix with your fingers to break up any lumps. Add finely chopped onion, garlic, breadcrumbs, egg and mix. Add milk and season well with salt and pepper.
Shape mixture into small, round balls. Place on a clean plate, cover and store in the fridge for 2 hours (this will help them hold their shape whilst cooking).
In a frying pan, heat oil on medium heat. When hot, gently add meatballs and brown on all sides.
When browned, add an ovenproof dish and cover. Place in a hot oven (180°C conventional or 160°C fan) and cook for a further 30 minutes.
Cream sauce
Melt 40g of butter in a pan. Whisk in 40g of plain flour and stir for 2 mins. Add 150ml of veg stock and 150ml of beef stock and continue to stir. Add150ml double cream, 2 tsp of soy sauce and 1 tsp of Dijon mustard. Bring it to a simmer and allow the sauce to thicken
Now you're free to live out your meatball dreams and enjoy your 'fredagsmys'!
(Source)