One-Pan Tomato, Harissa, and Feta Chicken Thighs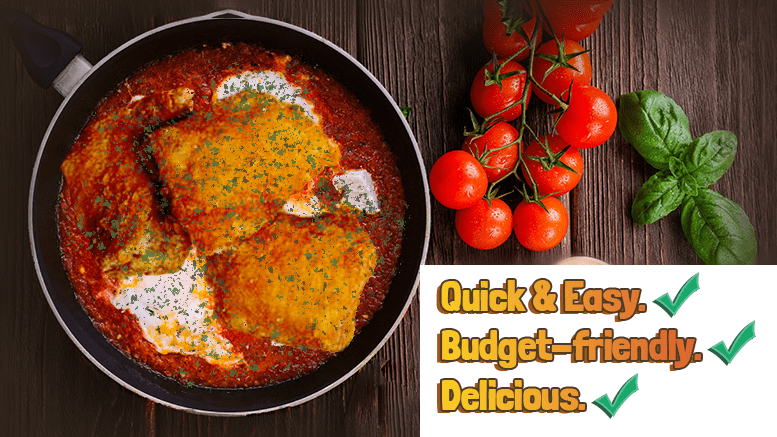 We heard you loud and clear; "We want more delicious recipes selected by the culinary wizards at Qmee!" – literally everyone on Earth. Okay, you caught us… that wasn't a real quote. But, whether you've been saying that or not, we've still got a delicious recipe for you! How does a tasty tomato, harissa, and feta chicken thigh recipe made in a single pan sound? Amazing, right!?
A dish so perfectly hot that it'll feel like the climate of your mouth is changing, call us… Feta Thunberg!
What you'll need:
6 skin-on, bone-in chicken thighs (about 2¼ lb. total)
3 tsp. kosher salt, divided
1½ lb. cherry tomatoes (any color)
¼ cup harissa paste
3 Tbsp. red wine vinegar
3 sprigs oregano, divided
4 oz. feta
Crusty bread (for serving)
What you'll need to do:
Step 1
Pat 6 chicken thighs dry with paper towels. This will help the skin get nice and brown. Season all over with 2½ tsp. salt. (When you're seasoning meat, a good rule of thumb is 1 tsp. salt per pound.)
Step 2
Place chicken (skin side down) in a dry large cast-iron skillet with the heat off. Heat over medium and cook chicken, undisturbed, until the skin is very crisp and deeply golden brown and releases from the pan (an indication that the skin is brown and crackly), 13–16 minutes. You have permission to rotate the pan (but not the chicken) from time to time to encourage all thighs to get equal love from the burner. And just like starting fish skin side down in a room temp pan guarantees crackly, bronzed skin, doing the same with chicken renders the fat slowly—and that means even browning and the crispiest skin imaginable.
Step 3
Using tongs, transfer chicken to a plate. Make sure to keep it skin side up: Placing that crispy skin against the plate will cause it to steam and sog, negating all of your hard work.
Step 4
Add 1½ lb. cherry tomatoes, ¼ cup harissa paste, 3 Tbsp. red wine vinegar, 1 oregano sprig and remaining ½ tsp. salt to pan. Increase heat to medium-high and cook, stirring occasionally, until tomatoes have burst and released all of their juices, and the juices have started to thicken, 8–10 minutes.
Step 5
Nestle chicken thighs back into skillet (keep the skin side up) over tomatoes.
Step 6
Reduce heat to medium-low, bring to a simmer, and cook until chicken is just cooked through and flesh is no longer pink (an instant-read thermometer inserted into the thickest part near the bone will register 165°), and tomato sauce has thickened and a wooden spoon leaves a trail when dragged through, 6–8 minutes. Let sit for 5 minutes—this gives the meat an opportunity to reabsorb the moisture that moved to the surface while it cooked. Sounds technical, but it means your chicken will be tender and juicy.
Step 7
While the chicken cooks, cut 4 oz. feta into ¼"-thick planks.
Step 8
Once the chicken has rested for 5 minutes, break feta planks into large pieces, scattering over the skillet. Some pieces will stay intact while others will soften into the sauce a little—and that's exactly what you want.
Step 9
Pick leaves off remaining 2 oregano sprigs and scatter over chicken and tomatoes.
Step 10
Serve with torn crusty bread for sopping up any extra tomato sauce.
(Source)