10 Must-have Gadgets under $20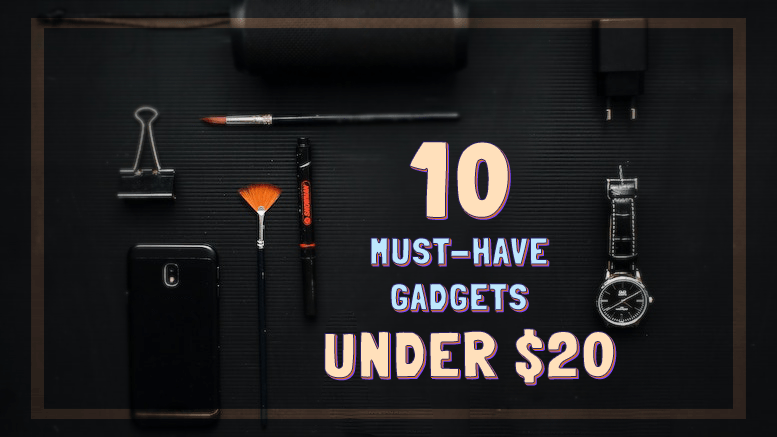 If you're looking for a range of must-have gadgets that you'll need for traveling, home improvement, organization, or simply improving your general quality of life, then take a seat and strap in, because you'll have to get ready for a wild ride with these 10 must-have gadgets for under $20! *Please keep your hands inside the vehicle at all times* 😂🎢
If these deals aren't as low as you'd wished, check out the Qmee tech section from our cashback deals to see if you can get these even cheaper!
#1 3-in-1 Charging Cable
Usage: This is an ideal gadget for any travel enthusiasts out there! The compact form factor of this gadget means that you'll be able to take the essential charging cables (Lightning, Micro USB, USB-C) in your baggage, without having to untangle a messy cluster of cables every time!
Price: $18.99
Purchase location: https://amzn.to/3dAZ3xr
#2 Rechargeable Fabric shaver & Lint remover
Usage: No one likes an unintentionally multi-colored sweater or shabby furniture fabrics, so why should we accept these frustrating problems as normal? We shouldn't!
Okay, let's calm down for a second, lint build-up and shaggy furniture isn't a cause for a riot, but they are ridiculously challenging to solve –that's where this gadget steps in like Clark Kent to whisk you off of your feet and save the day! Say hello to convenient gadgets and goodbye to nasty lint rollers!
Price: $13.79
Purchase location: https://amzn.to/3ppa5sE
#3 Wall-mounted Automatic Soap Dispenser
Usage: You may be saying "I can handle dispensing soap just fine by myself", which is fair stance, but to that we say "Yeah, but what if you could ensure that you were using less soap with the same level of effectiveness and that there's a smaller chance that visitors will spread germs this way?" – if your answer is still the same, then… fair enough, you can't win them all. HOWEVER, if you're intrigued by these facts, then let us quickly explain. The dispenser requires that you use a mixture of soap and water, and as a result it produces a foam. This foam is equally as effective as applying soap normally, however, due to the diluted mixture you're actually using less soap! Crazy, right!?
As for decreasing the likelihood of spreading germs, well… it's hands-free, so unless your guests have a niche bathroom ritual of wiping their hands all over anything wall-mounted (to each their own, I guess!) then you'll be less likely to cross-contaminate.
Price: $19.97
Purchase location: https://bit.ly/3A1NQxB
#4 Waterproof Bluetooth Shower Speaker
Usage: For those times where belting out your favorite Whitney Houston song in the shower is a little too uncomfortably acapella (don't worry… you aren't the only one 👀). This waterproof bluetooth speaker means that you can get that extra sound boost in the shower, while also being able to control the volume, song selection, and play/pause.
Price: $7.79
Purchase location: https://bit.ly/3ptPkf2
#5 Accessory Organizer
Usage: If you're the type of person that uses a load of tools or you simply use a ton of accessories that you can't seem to find a suitable home for, then look no further! With this accessory organizer, you'll be able to put your un-housed trinkets in one tidy place.
Price: $14.82
Purchase location: https://amzn.to/3zTpSVi
#6 Coffee frother
Usage: Who doesn't like the idea of an A-grade Latte or Cappuccino experience from the comfort of your own home, without expensive equipment!? Well, okay, if you aren't a coffee-drinker then perhaps it's not a great idea for you, but can we at least appreciate that "frothy coffee" is fun to say!?
Price: $14.97
Purchase location: https://amzn.to/3PtlG4m
#7 Blue light blocking glasses
Usage: If you're someone who spends an inordinate amount of time staring at computer screens, then this is definitely a gadget that you'll want to look into (haha get it? Because glasses, looking through – ah forget it). In blocking out blue light, these glasses prevent eye strain when looking at computer screens for long periods of time.
Price: $12.78
Purchase location: https://amzn.to/3bTQca1
#8 Heated Bag Sealer
Usage: Are you tired of twisting and scrunching your food bags into weird shapes, just to make sure that no air gets to your food and stays fresh, or are you frustrated with finding the right sized clips to close them? Well, with this heated bag sealer you can wave goodbye to these frustrations! This gadget allows you to simply reseal the bag, using a heated clamp mechanism.
Price: $14.99
Purchase location: https://amzn.to/3CeLJJw
#9 No-tie Shoelaces
Usage: For those of us that are hiding the fact that they can't tie their shoelaces or for those of us that simply don't want to anymore! Don't worry if you have small or large feet, one size fits all.
Price: $9.99
Purchase location: https://amzn.to/3QMXf2P
#10 Coffee mug warmer
Usage: What's worse than making a nice hot cup of joe to get the day started, to then forget it and have to pour it back in the pot and reheat it!? Well, there's probably a few things, but in the world of coffee, we would argue that there's NOTHING worse!
This gadget will completely remove that frustration from your life and never leave another cup of coffee feeling lonely ever again! This neat accessory allows you to simply place your favorite "I <3 NY" coffee cup that you bought as a souvenir in 2012 and you haven't stopped using since because it's surprisingly durable (No, just us? Alright then…) onto the device and it will keep your coffee satisfyingly hot!
Price: $19.99
Purchase location: https://amzn.to/3QxZkju