3 Fun & Creative Challenges to Help Build Your Savings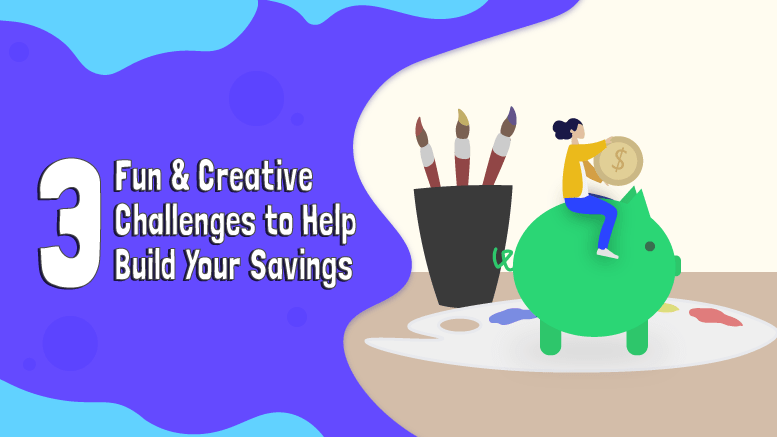 Today we've got something special for you. We're talking about challenges, folks! Not just any challenges, but 3 fun & creative challenges to help you build your savings! Before you click away thinking "Oh, another boring financial advice blog? NOPE, GET ME OUT OF HERE!" or something along those lines (perhaps a little less dramatic?)… Just hear us out, we don't think you'll regret staying!
These 3 are not only practical, but they're fun, creative, and entertaining too – which is especially true if you're the kind of person that usually gets a kick of competing in challenges!
The "No-Spend" Challenge:
Challenge yourself to not spend any money on non-essential items or activities for a specific period of time, such as a week or a month. This can include things like dining out, shopping, or going to the movies.
The goal of this challenge is to not only save money, but also become more mindful of your spending habits. Planning ahead by finding free or low-cost activities to replace your usual spending habits can be a real game-changer in the long-run!
Remember, folks, this challenge is not about being broke but rather about learning to prioritize needs over wants and becoming more financially savvy!
The Cash-Only Challenge:
Similar to the previous challenge, first challenge yourself to use only cash for all purchases for a certain period of time, such as a week or a month. This means avoiding credit cards and online shopping, by the way! The goal of the challenge is to become more aware of your spending habits and learn to live within your means.
Make a budget for necessary expenses and divide your cash into envelopes for each category. Again, look for free or low-cost activities to do for entertainment.
The challenge is not about being cheap but rather about becoming more financially aware and in control of your spending habits!
The DIY Challenge:
This challenge is simple, but could take more effort to achieve, compared to the others. So, the aim is to challenge yourself to make or create something on your own instead of buying it. This could include anything from sewing your own clothes to building your own furniture.
The goal of this challenge is to become more self-sufficient, but also gaining new skills – you may even find a new hobby from it! We'd recommend starting small and working your way up to more challenging/advanced projects. Using online tutorials or asking friends/family for advice can help you along the way if needed.
Bear in mind, the challenge is not about being perfect, but rather about trying new things and having fun while saving money.