5 Home Space-Saving Tips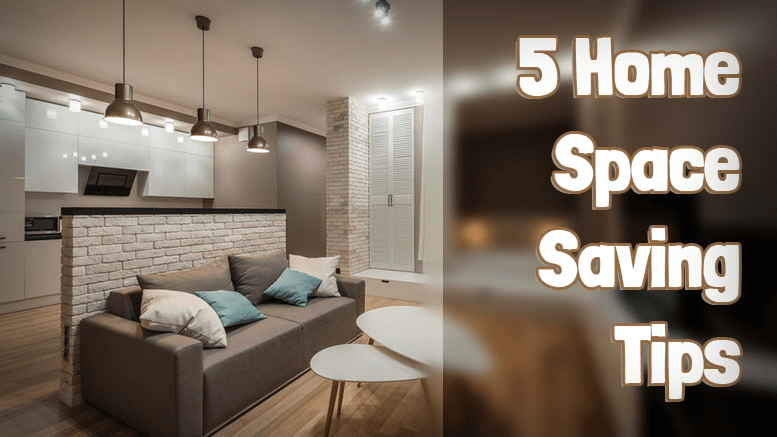 Though none of us live in a shoe box (we hope), it can sometimes feel like that when you've got so much clutter in your home with no where to put it! These 5 home space-saving tips may be a solution for that! 
Even though you may be on your 100th attempt at figuring out whether the invention of the ironing board included plans to make it virtually impossible to store in any sized home, or whether it's possible to harness the interior space capabilities of Doctor Who's flying Tardis, you aren't alone!
With these 5 home space-saving tips, you may be able to find an answer to both of those questions… but… we wouldn't want to spoil anything now, would we?…
Tip #1
Tension Rods
Tension rods are a great way to add storage space where it wouldn't normally exist! Okay, hold on a second, we're not claiming to turn your 1 bedroom apartment into a penthouse with the use of tension rods – we'd be the first to tell you if that existed! Although less magical, tension rods do allow for a quick and easy way to set up a rack for a small space. We personally like to use them for either creating a temporary clothes hanger between two close, parallel walls and/or to hang kitchen cleaning products within a cupboard.
Tip #2
Under-shelf Baskets
Whether we like to admit it or not, shelves by themselves don't always have enough space to store our items – even if they do look nice! The utility of any given shelf is often ideal for horizontal space, but they are flawed when it comes to providing vertical utility. Well, with under-shelf baskets, you can simply slide the basket underneath virtually any shelf or shelf-like feature in your home, such as a table, or even a chair!
Tip #3
On-door Hooks
On-door hooks can be used in a variety of ways, whether that be hanging clothes, hanging shelves, or hanging storage sacks (as mentioned in our 5 Budget-friendly Home Organization Hacks blog post). However, are you like us in that you can never seem to find a suitable place for your ironing board? Yeah, we thought so! If you use two of these hooks, you can hang it on the back of your kitchen door (or any door – that part is up to you!).
Tip #4
Roll-up Drying Rack
Not every sink has a suitable place to dry your dishes, and not every sink has an area that's convenient to do so either! With a roll-up drying rack, you can take up any real estate occupied by the sink to dry your dishes, then simply roll the rack back up and store it away!
Tip #5
Floating Shelves with Drawers
Floating shelves are a quick & easy way to save your floor from clutter, whilst looking stylish. What's even better than clearing the way by placing your items on the shelf, is also having the ability to keep things inside the shelves too! These drawer shelves are a great way to save space, and add a little minimalistic flair to your home! They can be found at a variety of online stores, as well as popular hardware stores.