Festive Recipes – Eggnog Cinnamon Rolls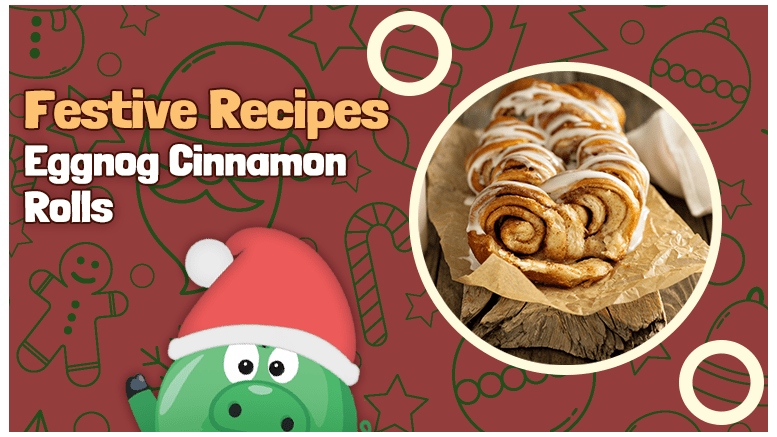 Whether you're an eggnog fanatic or an eggnog newbie, this recipe will have your tastebuds throwing a festive party in your mouth (If you watch closely enough, you may even catch them high-fiving), thanks to these eggnog cinnamon rolls!
For those that are grabbing alcoholic eggnog; don't worry – these eggnog cinnamon rolls won't leave you swaying around your kitchen in slow-mo, determined, yet lazily searching for a glass of water in the morning, if you catch my drift! So don't worry about diving into that last one that you said you wouldn't – you should be safe to drive!
What you'll need:
Dough
⅓ cup granulated sugar
1 (.25 ounce) package quick-rising yeast
2 teaspoons kosher salt
4 ½ cups all-purpose flour, divided, or more as needed
½ cup eggnog (alcoholic or non-alcoholic – to your preference!)
½ cup sour cream
6 tablespoons unsalted butter, softened
1 large egg, lightly beaten
cooking spray
Filling
½ cup unsalted butter, at room temperature
1 cup firmly packed light brown sugar
4 teaspoons ground cinnamon
2 teaspoons freshly grated nutmeg, or to taste
Glaze
4 ounces cream cheese, at room temperature
4 tablespoons unsalted butter
1 ½ cups powdered sugar
4 tablespoons eggnog
½ teaspoon vanilla extract
What you'll need to do:
Step 1
Combine the sugar, yeast, salt, and 4 cups of the flour in the work bowl of a stand mixer fitted with the paddle attachment. Beat on low speed until just combined, about 15 seconds. With the mixer running on low speed, add eggnog, sour cream, butter, and egg. Continue beating until dough forms, 1 to 2 minutes. Switch to a dough hook attachment. Beat on medium-low speed until dough is smooth and elastic, 6 to 9 minutes; gradually add remaining 1/2 cup flour, 1/2 to 1 teaspoon at a time, if necessary.
Step 2
Place dough in a large bowl greased with cooking spray and turn to coat. Cover with a clean kitchen towel and let rise in a warm draft-free place until dough has doubled in size, 2 to 3 hours.
Step 3
Spray a 13- x 9-inch pan with cooking spray. Lightly punch down the dough. On a lightly floured surface, roll dough into an 18 x 10" rectangle.
Step 4
For the filling, spread 1/2 cup of butter over the dough. In a small bowl, stir together brown sugar, cinnamon, and nutmeg. Sprinkle evenly over butter. Starting with one long side, roll dough into a log; pinch seam to seal. Slice into 12 rolls. Place rolls in the prepared pan. Cover, and let rise in a warm draft-free place until doubled in size, 1 hour to 1 hour and 15 minutes.
Step 5
Preheat the oven to 350°F (175°C).
Step 6
Bake in the preheated oven, uncovered, until golden brown, 25 to 30 minutes. Let cool in a pan on a wire rack for 15 minutes.
Step 7
Add cream cheese and 4 tablespoons butter to the bowl of a stand mixer fitted with the paddle attachment; beat on medium speed until smooth, 1 to 2 minutes. Add powdered sugar, eggnog, and vanilla. Beat on medium speed until smooth, about 1 minute.
Step 8
Drizzle glaze over warm rolls. Serve with freshly grated nutmeg sprinkled on top and any extra glaze, if desired.
(Source)