Qmee Recipes – 3-veg mac 'n' cheese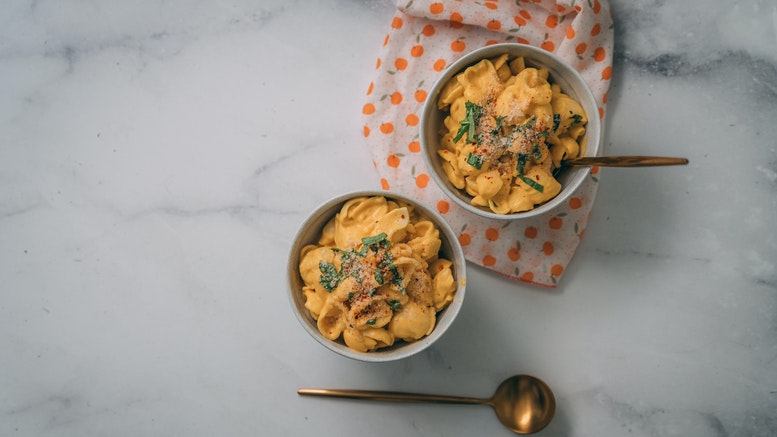 If you struggle to get the kids to eat their vegies then the recipe we've found this week is perfect. Turn a classic family meal that everyone loves into a dish packed with nutrients by sneaking in some wholesome delicious veggies like leeks, peas and squash. If you're looking for a quick, simple and healthy dish for dinner why not give this 3 – veg mac 'n' cheese recipe a try…
Take a look at the ingredients and method below.
Here's what you'll need…
¾ cup butternut squash, cut into chunks
3 cups penne (we used Napolina 50% white 50% wholemeal)
3 tbsp butter
1 small leek, finely sliced (about 50g)
2 tbsp flour
2 ½ cups milk
1 cup frozen peas
2 ½ cups mature Cheddar cheese (we used a vegetarian version)
1 slice of day-old brown bread, blitzed into crumbs
Here's what you'll need to do…
1.Heat oven to 200C/fan 180C/gas 6.
2.Put the butternut squash in a steamer over boiling water.
3.Steam for around 15-20 mins or until tender
4.Drain and then blitz in a food processor until smooth.
5.Cook the pasta according to the pack instructions.
6.Heat the butter in a medium saucepan, add the leek and cook for 2 mins.
7.Stir in the flour and cook for 1-2 mins more.
8.Take the pan off the heat and gradually whisk in the milk.
9.Return to the heat and bring to the boil, stirring all the time. Simmer for 5 mins.
10.Stir in the peas and bring back to a simmer.
11.Take the pan off the heat and stir in the butternut squash, then add the cheese.
12.Stir the pasta into the sauce and transfer it to an ovenproof dish.
13.Sprinkle over the remaining cheese and the breadcrumbs.
14.Bake for 20 mins or until golden and bubbling.
(Source: https://www.bbcgoodfood.com/recipes/3-veg-mac-n-cheese)