Qmee recipes – banana custard tart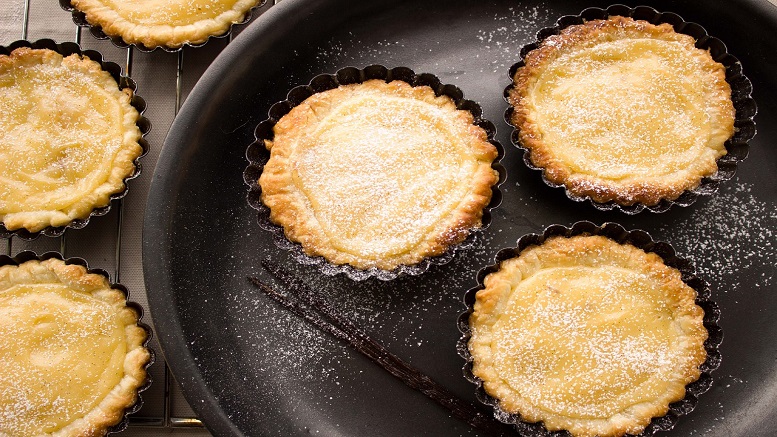 It's our first recipe of the new year, and we've gone for a classic pudding this week that has a new edge! Just by adding banana to this custard tart you've got yourself an exciting, new dessert for all the family to try.
Take a look at the ingredients you'll need and the method you'll need to follow to create this wonderful banana custard tart.
Here's what you'll need…
500g block rich shortcrust pastry
Flour, to dust
200ml full-fat milk
200g double cream
3 eggs, plus 1 yolk
2 tbsp golden caster sugar
Pinch freshly grated nutmeg, plus extra to serve
2 bananas, cut into chunks
Juice of 1 lemon
Here's what you'll need to do…
Roll the pastry out on a lightly floured surface to the thickness of a 20p coin.
With a 14cm wide saucer, cut out 6 circles of pastry, then use to line six tartlet tins, 9cm in diameter.
Chill for 30 mins.
Heat oven to 200C/fan 180C/gas 6.
Line each pastry case with crumpled baking parchment, then fill with baking beans.
Bake the pastry for 15 mins, then remove the paper and beans. Bake for another 5 mins until the pastry is cooked and lightly golden.
Remove from the oven, then leave to cool. Reduce oven to 150C/fan 130C/gas 2.
In a pan, heat the milk and cream together to scalding point.
Beat the eggs, egg yolk, sugar and nutmeg together, then pour in the hot milk and cream and gently beat, incorporating as little air as possible.
Toss the bananas in lemon juice, divide them between the pastry cases, cut-side up, then fill with custard.
Bake for 30 mins until just set.
Remove from the oven and leave in the tins for 5 mins, before turning them out to cool on a wire rack.
Finish with an extra grating of nutmeg.
(Source: https://www.bbcgoodfood.com/recipes/3433/banana-custard-tarts)