Cheeseburger Pie Recipe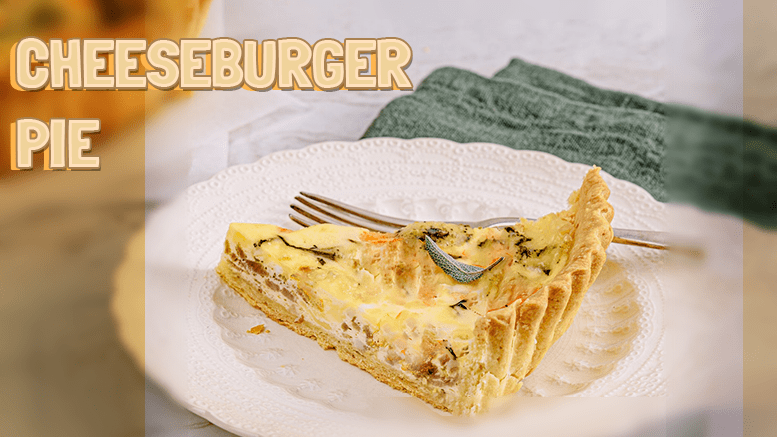 What is a recipe so daring that even Evel Knievel would consider before taking the leap, or a dish so seemingly odd that The Mad Hatter would choose it as his birthday cake? Dare you ask?… Why, it's Cheeseburger Pie, of course!
It's a lot to take in, we know. You're probably in one of two camps right now, either "Ew, how could you do that to two things I love so dearly!?" or "That sounds… weirdly nice and I don't know why". Regardless of your position on it, it's here and it's here to stay!
Whether this sounds good to you or not, we hope this will at least provide you with an interesting, fun, recipe to keep under your belt (or throw in a figurative fire, that's up to you)!
What you'll need:
1 lb lean (at least 80%) ground beef
1 large onion chopped (1 cup)
1/2 teaspoon salt
1 cup shredded Cheddar cheese (4 oz)
1/2 cup Original Bisquick mix
1 cup milk
2 eggs
What you'll need to do:
Preheat the oven to 400°F (200°C)
Grease a 9-inch glass pie plate
Over a medium heat, cook the beef and onion in a large skillet for 8-10 minutes until the beef
is browned. Stir the mixture occasionally
Drain the beef mixture and stir in salt
Spread into pie plate and add shredded cheese on top
In a separate bowl, combine the remaining ingredients, whisking until blended
Pour on top of the ingredients in the pie plate
Bake for about 25 minutes or until the knife comes out clean
If you can't find Bisquick mix, here's how to make it:
Combine the following ingredients:
½ cup flour
1 teaspoon baking powder
½ teaspoon sugar
Next, slowly work in 2 teaspoons of cold butter using a fork or a pastry cutter. Mix until it has a breadcrumb-like consistency. Then follow the Cheeseburger Pie recipe as normal.
Enjoy!
(Source)