Qmee recipes – chilli with creamy chive crushed potatoes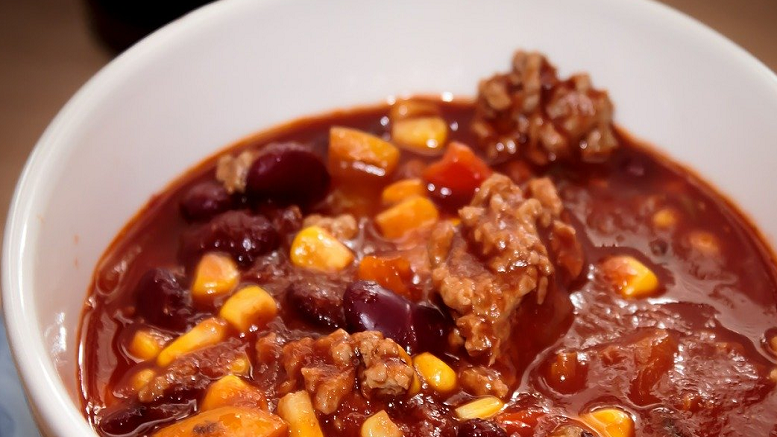 Everyone loves the delicious Mexican meal that is chilli! The recipe we've found this week is not only tasty, but slightly different as well – chilli with creamy chive crushed potatoes! Sounds perfect to us.
This warming recipe is quick and easy to make so it's great as something simple to cook in the evening, after a long day at work, or for a speedy lunch time meal whilst at home.
Take a look at the ingredients you'll need and the method you'll need to follow.
Here's what you'll need…
450g (1.90cups) pack reduced-fat pork sausage
2 tsp vegetable oil
1kg (2.2lb) new potatoes, skins on, thickly sliced
2 red peppers, deseeded and sliced
2 garlic cloves, crushed
1 tsp each ground coriander, chilli powder and ground cumin
400g (1.69cups) can red kidney beans in water, rinsed and drained
2 x 400g (1.69cups_ cans chopped tomatoes, with herbs
2 tsp caster sugar
5 tbsp 0% fat Greek yogurt
20g (1/4cup) pack chive, snipped
Here's what you'll need to do…
1.Squeeze 3 balls of meat from each sausage, then fry in the oil for 5 mins until golden.
2.While they cook, put the potatoes on to boil for 10 mins until tender.
3.Add the peppers to the pan, then fry for 4 mins more.
4.Tip in the garlic and spices, fry for 1 min, then add the beans, tomatoes and sugar.
5.Simmer for 5 mins until saucy and the meatballs are cooked.
6.Drain the potatoes, then crush with a masher.
7.Fold through the yogurt and chives, loosen with a splash of water, then serve with the chilli.
8.Top with a dollop more yogurt and sprinkling of chives, if you like.
 (Source: https://www.bbcgoodfood.com/recipes/quick-chilli-creamy-chive-crushed-potatoes)