Qmee Recipes – Cinnamon rolls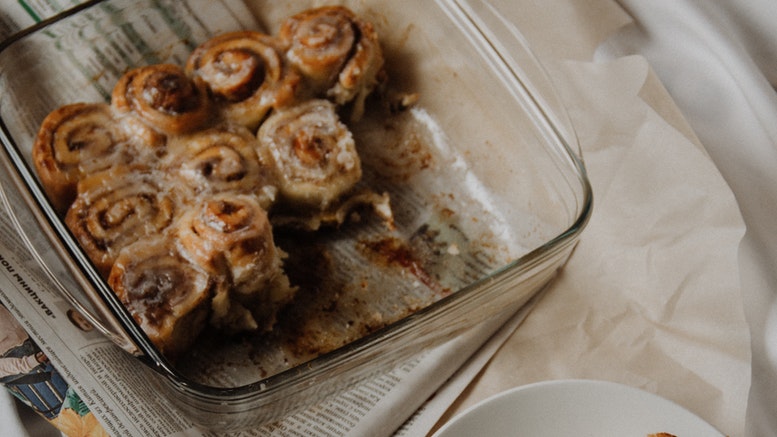 If you're looking for a new dessert idea, or a sweet snack to have during a coffee morning or afternoon tea, Cinnamon rolls are perfect!
This week we've found a super simple cinnamon roll recipe that can be made in just 30 minutes. Delicious served hot or cold these cinnamon rolls are great for an easy snack and can also be made ahead of time and kept in the freezer.
Take a look at the ingredients and method below.
Here's what you'll need…
1 can ready-made croissant dough
2 tbsp unsalted butter, softened
2 tsp cinnamon
6 tbsp soft light brown sugar
Here's what you'll need to do…
1.Heat oven to 180C/160C fan/gas 4.
2.Line a 23cm cake tin with a square of baking parchment so the corners stick up (this will help you to lift the rolls out).
3.Unroll the croissant dough from the can and lay it out on your work surface.
4.Cut it into three sections along the dotted lines but don't cut the diagonal line.
5.Spread over a quarter of the butter onto each piece.
7.Mix the cinnamon and sugar together.
8.Using one square of dough at a time, sprinkle over 2-3 tsp of the sugar and roll up the dough.
9.When you have three rolls, cut each one in half and then each half into three.
10.Arrange the rolls in the tin in two circles – you need to spread them well apart as they will rise and spread.
11.Stick the end bits in among fatter pieces from the centre of the rolls so they cook evenly.
12.Bake for 15 mins or until the rolls are risen and cooked through.
13.Drizzle a sugar or caramel glaze on top
(Source: https://www.bbcgoodfood.com/recipes/really-easy-cinnamon-rolls)