Cozy French Onion Soup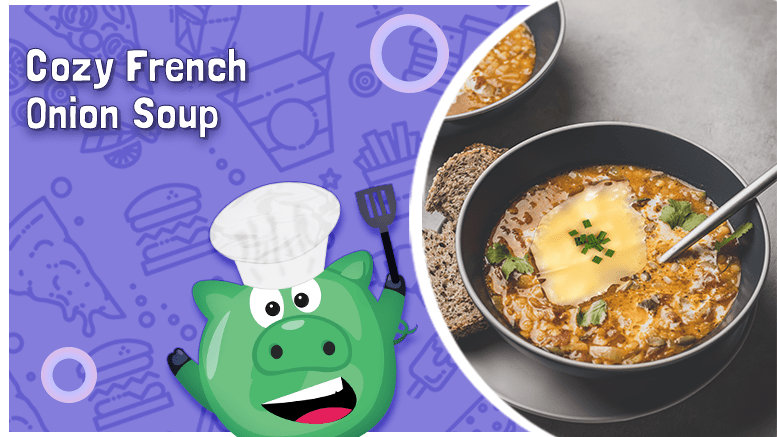 Welcome to the sizzling, simmering world of divine French Onion Soup – the cozy blanket in a bowl that'll cuddle your taste buds! Picture this: caramelized onions doing the tango in a hot pot, cheese getting all melty, and the croutons diving in for a jacuzzi soak.
This recipe is like a warm hug from a culinary wizard—easy to make, impossible to resist, and the epitome of coziness. So, grab your onions and let's embark on a flavor adventure that's about to bowl you over (literally)!
What you'll need:
3 tablespoons unsalted butter
4 medium yellow onions, sliced into 1/4 inch lengthwise, about 6 cups
2 (10 1/2-ounce) cans condensed beef broth
2 cans water, about 2 3/4 cups
4 slices French bread, approximately 1 inch thick
1/2 cup coarsely grated Gruyère cheese, more for serving
Sliced chives, for garnish (optional)
What you'll need to do:
Step 1:
In a large non-stick skillet or sauté pan over medium-low heat, melt the butter. Sauté the sliced onions for about 30 to 45 minutes, or until very soft and golden brown in color. Stir them frequently. If they are browning too quickly or scorching, turn the heat to low. It takes time to get that sweet caramelization, so don't try to rush it.
Step 2:
In a medium saucepan or Dutch oven, combine the beef broth and water with the cooked onion and bring to a boil. Reduce the heat to low and cover the pan. Simmer for 25 to 30 minutes.
Step 3:
Meanwhile, position a rack 4 inches from the broiler. Heat the broiler and place the bread on a foil-lined baking sheet. Toast until golden, 30 to 45 seconds.
Step 4:
Remove from the oven, flip the bread, and divide the cheese between the slices. Return to the oven and broil until the cheese is melted, 20 to 30 seconds.
Step 5:
To serve, pour the onion soup into four individual soup bowls. Float a slice of toasted French bread, cheese side up, in each bowl and sprinkle with extra cheese. Garnish with chives, if using.
(Source)