Easy Gingerbread House Recipe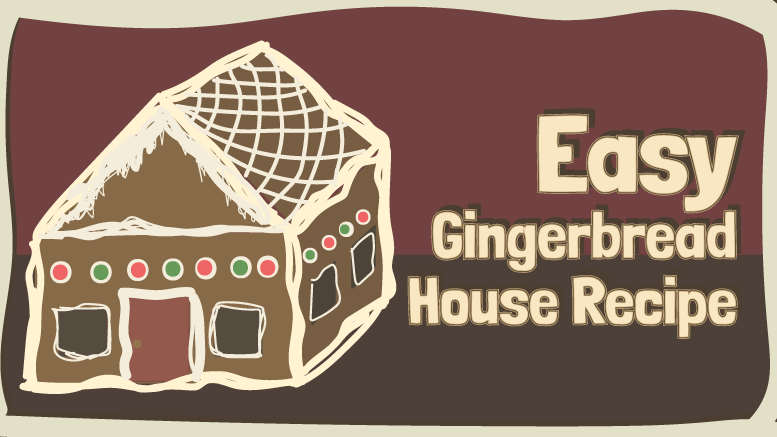 We're officially 24 days (and counting) away from Christmas and we say it's never too early to kick off the festive season with your friends & family! So, what better way is there to share the festive cheer than to bake & make your very own gingerbread house!?
⚠️CAUTION⚠️
Extremely likely to cause tons of fun & laughter and a eye-watering amount of cleaning! You've been warned!
What you'll need:
Gingerbread
2 cups butter
2 cups brown sugar
1 cup molasses
1 cup dark corn syrup
2 tablespoons lemon zest (Optional)
4 teaspoons ground cinnamon
2 teaspoons ground nutmeg
2 teaspoons ground ginger
1 teaspoon salt
1 teaspoon ground mace (Optional)
12 cups all-purpose flour
Icing
1 (16 ounce) package confectioners' sugar
3 egg whites
1 teaspoon cream of tartar
1 drop white vinegar
What you'll need to do:
Step 1:
Cover a piece of heavy cardboard with aluminum foil or freezer paper, dull-side up, to make a base for the gingerbread house.
Step 2:
Cut templates for the gingerbread house out of heavy cardboard or cardstock; label each piece.
Step 3:
Preheat the oven to 350 degrees F (175 degrees C). Grease 3 rimless baking sheets (or the back of rimmed baking sheets).
Step 4:
Combine butter, brown sugar, molasses, and dark corn syrup in a large, heavy saucepan over medium heat; stir until melted, about 3 minutes. Stir in lemon zest, cinnamon, nutmeg, ginger, salt, and mace until blended, about 2 minutes. Remove from heat.
Step 5:
Sift flour into a large bowl. Stir into the butter mixture 2 cups at a time, mixing the last 2 cups by hand to create a warm, firm mass of dough. Place a large handful of dough on a greased baking sheet; roll out to 1/8-inch thickness. Keep the remaining dough covered.
Step 6:
Dust cardboard templates lightly with flour and place on top of dough; cut around templates with a sharp knife. Cut out doors or windows as desired. Cut shutters, door knobs, or other features from the scraps. Return remaining scraps to the covered pan.
Step 7:
Bake in the preheated oven until firm and slightly browned at the edges, 5 to 7 minutes for small pieces and 12 to 15 minutes for large pieces. Remove from the oven and place templates over the baked pieces; trim excess with a sharp knife to produce clean edges.
Step 8:
Cool pieces on the baking sheet until firm, 5 to 10 minutes; transfer to a wire rack to cool completely, 15 to 30 minutes.
Step 9:
Combine confectioners' sugar, egg whites, cream of tartar, and white vinegar in the bowl of a stand mixer fitted with the paddle attachment; beat until icing is stiff and shiny, 7 to 10 minutes.
Step 10:
Stick candies and decorations over gingerbread pieces using royal icing. Let icing dry until hardened, about 5 minutes. Assemble gingerbread house pieces using icing. Let stand until the icing is dry, about 5 minutes.
(Source)