Qmee recipes – Halloween pumpkin soup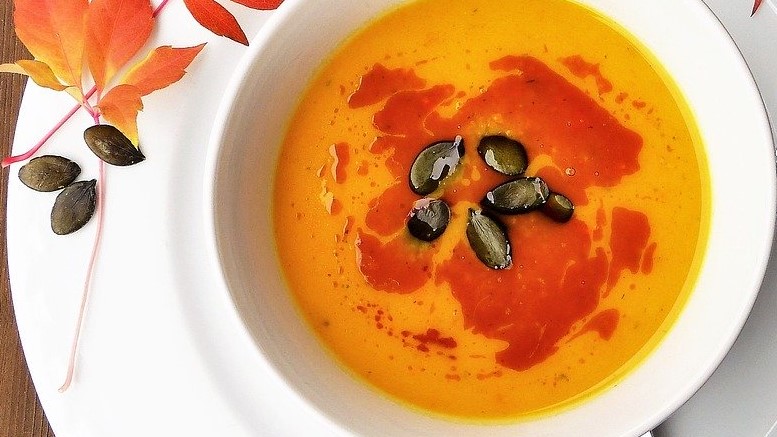 It's officially October and this month is about all things Halloween. So this week we've found a great Halloween inspired pumpkin soup. Who said pumpkins were just for carving?
This recipe is perfect for a cosy appetizer or a hearty main dish now that the weather is starting to get colder (in a lot of places) and the days are getting shorter. It's also a great meal prep option as you can pop it in the freezer for a later date!
Take a look at the ingredients you'll need for this Halloween pumpkin soup and the method you'll need to follow.
2 tbsp olive oil
2 onions, finely chopped
4 cups pumpkin or squash, peeled, deseeded and chopped into chunks
3 cups vegetable stock or chicken stock
½ cup + 2 tbsp double cream
Here's what you'll need to do…
1.Heat 2 tbsp olive oil in a large saucepan, then gently cook 2 finely chopped onions for 5 mins, until soft but not coloured
2.Add pumpkin or squash and carry on cooking for 8-10 mins, stirring occasionally until it starts to soften and turn golden.
3.Pour vegetable or chicken stock into the pan and season with salt and pepper.
4.Bring to the boil, then simmer for 10 mins until the squash is very soft.
5.Pour double cream into the pan, bring back to the boil, then purée with a hand blender.
6.For an extra-velvety consistency you can pour the soup through a fine sieve. The soup can now be frozen for up to 2 months.
7.Reheat the soup if needed, taste for seasoning, then serve scattered with croutons and seeds and drizzled with more olive oil, if you want.