Hot Chocolate Bombs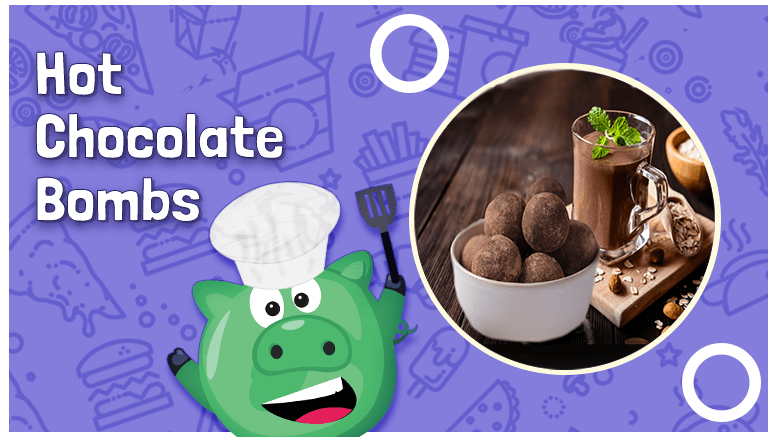 Who doesn't like Hot Chocolate Bombs, right!? If you're answer was "Not me", then get ready for your mind to be changed! With this Hot Chocolate Bomb recipe, you'll be "mysteriously" craving hot chocolate for the the foreseeable future!
What you'll need:
22 ounces semisweet chocolate, such as Baker's Chocolate, finely chopped
1/2 cup baking cocoa
1/2 cup nonfat dry milk powder
1/4 cup confectioners' sugar
6 tablespoons vanilla marshmallow bits (not miniature marshmallows)
Optional: Sprinkles, colored sanding sugar and melted candy melts
What you'll need to do:
Step 1:
Place chocolate in a microwave-safe bowl. Microwave, uncovered, on high for 1 minute; stir. Microwave, stirring every 30 seconds, until chocolate is melted and smooth, 1-2 minutes longer. Chocolate should not exceed 90°.
Step 2:
Add 1 tablespoon melted chocolate into a silicone sphere-shaped mold (2-1/2-in. diameter). Brush melted chocolate evenly inside molds, all the way to edges, rewarming melted chocolate as needed. Refrigerate molds until chocolate is set, 3-5 minutes. Brush a thin second layer of chocolate in molds. Refrigerate until set, 8-10 minutes. Place remaining melted chocolate into a piping bag fitted with a small round decorating tip; set aside.
Step 3:
Remove chocolate hemispheres from molds. In a medium bowl, whisk together baking cocoa, milk powder and confectioners' sugar. Place 3 tablespoons cocoa mixture into each of 6 of the chocolate hemispheres. Top each with 1 tablespoon marshmallow bits.
Step 4:
Pipe a small amount of melted chocolate on edges of filled hemispheres; carefully adhere empty halves to filled halves, pressing lightly to seal, using additional melted chocolate if necessary. If desired, decorate with optional ingredients. Refrigerate until set. Store in a tightly sealed container.
Step 5:
To prepare hot chocolate: Place hot chocolate bomb in a mug; add 1 cup warm milk and stir to dissolve.
(Source)