Qmee Recipes – Next level fried chicken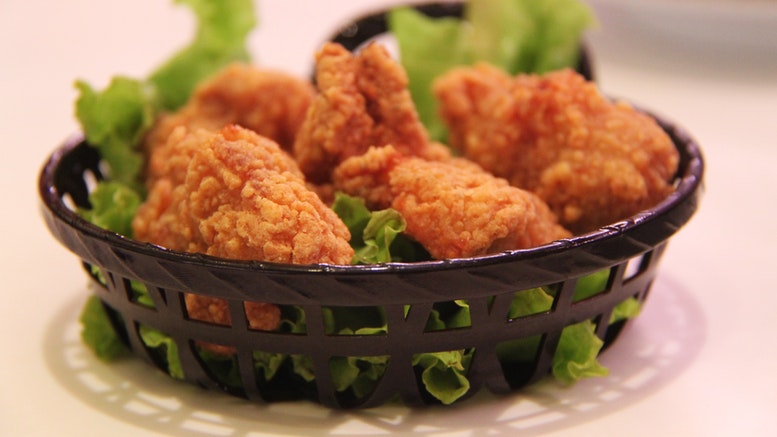 Fried chicken is an all-time classic favourite. This week we've found the ultimate fried chicken recipe. This dish is completely versatile and can be served on its own as a snack, or with chips and salad as a main. Perfectly served hot or cold this dish is great for meal prep and can be topped on a salad or put in a bun to make a delicious chicken burger.
Take a look at the ingredients you'll need and the method you'll need to follow.
What you'll need…
8 skinless boneless chicken thighs
sunflower oil, for deep-frying
For the spice mix
2 tbsp paprika
2 tsp garlic granules
1 tsp chilli powder
1 tsp black pepper
½ tsp dried oregano
1 chicken stock cube
For the buttermilk marinade…
2 cups whole milk
2 tbsp cider or white wine vinegar
1 egg
For the coating…
½ cup self-raising flour
¾ cup cornflour
¼ tsp turmeric
What you'll need to do…
-To make the spice mix, combine all the ingredients.
-Whisk the milk with the vinegar, egg, ½ tsp salt and 1 tbsp spice mix in a bowl or deep plastic container to make the buttermilk marinade.
-Open the chicken thighs and put between two pieces of baking parchment, then flatten using a rolling pin.
-Transfer to the marinade, then cover and chill for 4 hrs, or overnight.
-Make the coating by combining the flours and turmeric with most of the remaining spice mix (reserving 1 tsp) and a generous pinch of salt.
-Drain the chicken thighs, reserving the marinade.
-One by one, dredge each thigh in the flour, then dip in the reserved marinade, then dredge again in the flour, pressing on as much as you can to coat.
-Transfer the coated thighs to a large plate.
For Frying…
-Heat a 10cm depth of oil in a shallow saucepan or deep-fat fryer until it reaches 175C.
-Lower two or three of the thighs in at a time and fry undisturbed for 3 mins, making sure the temperature doesn't drop below 160C (it should stay at about 170C).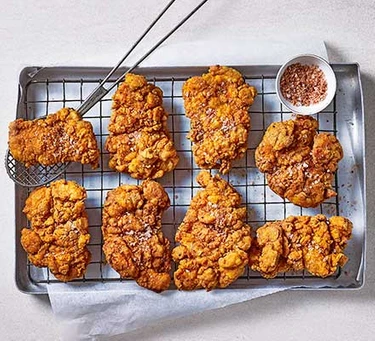 -Flip the thighs, then fry for another 2-3 mins until deeply golden and crisp on both sides.
-Lift the chicken out and transfer to a tray lined with kitchen paper to drain, then put on a rack and keep warm in a low oven while you fry the remaining thighs.
-When all the chicken has been fried, combine the reserved spice mix with 1 tbsp flaky sea salt and sprinkle over the chicken to serve.
(Source: https://www.bbcgoodfood.com/recipes/next-level-fried-chicken)