No-bake Key Lime Cream Pie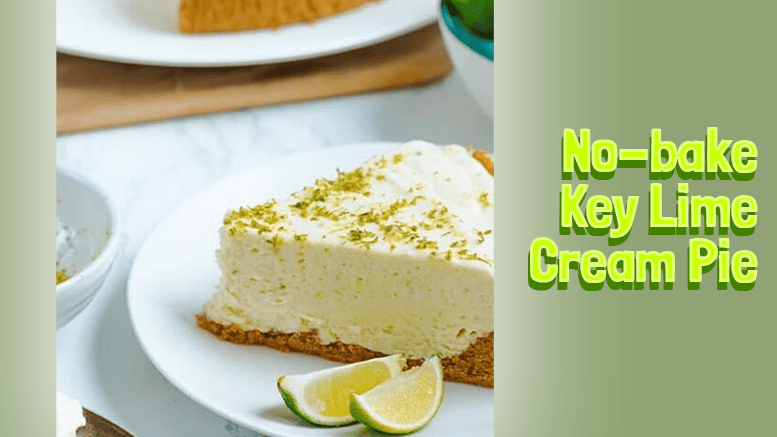 By a show of hands, who here likes the thought of being only two steps away from a delicious key lime cream pie that you don't even need to bake? … ✋ Count us in!
If you had to ask yourself "Two steps!? No baking!? How does Qmee find the quickest, easiest, and tastiest recipes?" you're not alone (*cough* humble brag *cough*)! Suspend your wonder for just a moment, because that's all the time you'll need to make this simple, yet tasty no-bake key lime cream pie!
This is a dish so tasty that "Wow, this really is delicious!" will be your key lime… key line. 😇
…We're here all week! 
What you'll need:
1 package (11.3 ounces) pecan shortbread cookies, crushed (about 2 cups)
1/3 cup butter, melted
4 cups heavy whipping cream
1/4 cup confectioners'/powdered sugar
1 teaspoon coconut extract
1 package (8 ounces) cream cheese, softened
1 can (14 ounces) sweetened condensed milk
1/2 cup Key lime juice
1/4 cup sweetened shredded coconut, toasted
Optional: Maraschino cherries with stems and sliced Key limes
What you'll need to do:
Step 1
In a small bowl, mix crushed cookies and butter. Press onto the bottom and up the sides of a greased 9 inch deep-dish pie plate. Then, in a large bowl, beat the cream until it begins to thicken. Add confectioners'/powdered sugar and extract; beat until stiff peaks form. In another large bowl, beat the cream cheese, condensed milk and the lime juice until it's blended together. Fold in 2 cups whipped cream. Lastly, spoon everything into prepared crust.
Step 2
Top with the remaining whipped cream; sprinkle with toasted coconut. Refrigerate for at least 4 hours before serving. If desired, you can garnish the top with cherries and limes.
Step 3
Enjoy! ☺️
(Source)