Qmee recipes – piri-piri halloumi & slaw wraps with sweet potato wedges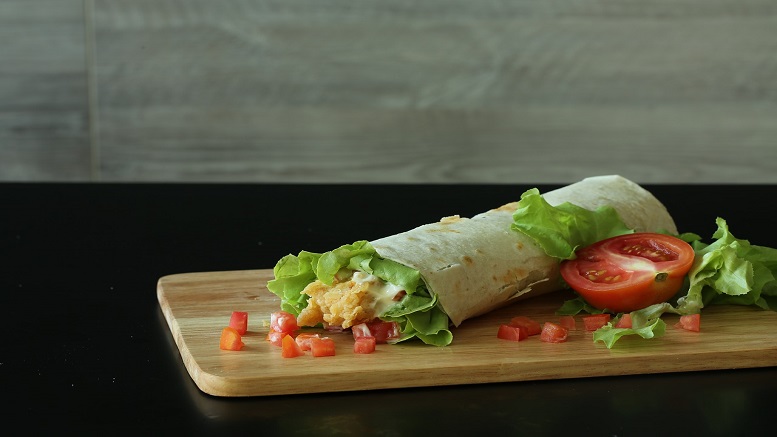 We're so excited to try the recipes we've chosen for this week – it sounds absolutely delicious! You can't go wrong with a recipe that includes halloumi, peri-peri sauce, slaw and sweet potato wedges.
Serve slices of griddled halloumi cheese alongside bowls of zesty coleslaw and yogurt sauce and let everyone assemble their own.
Take a look at the ingredients and method below.
Here's what you'll need…
4 small sweet potatoes
1 tbsp vegetable or sunflower oil
2 large carrots
1 large red onion, halved
Half a white cabbage, halved and cored
Handful coriander, chopped, plus a few leaves to serve
200ml natural yogurt
Juice and zest 1 lime
225g block halloumi
4 tbsp piri-piri sauce
4 large seeded wraps
Here's what you'll need to do…
Heat oven to 200C/180C fan/gas 6.
Cut the sweet potatoes into wedges, tip onto a baking tray, drizzle with oil and season well. Toss the wedges until well coated in oil, then bake for 30 mins, turning halfway through cooking, until crisp and golden.
Meanwhile, shred the carrots, onion and cabbage using the slicing blade on a food processor (or grate the carrot and finely slice the onion and cabbage).
Add the chopped coriander, 150ml yogurt, the lime juice and zest, and some seasoning. Toss together, then set aside.
Mix the remaining yogurt in a bowl with 2 tbsp piri-piri sauce.
Heat a griddle pan.
Slice the halloumi and put in a bowl with the remaining piri-piri. Toss gently to coat, without breaking up the cheese.
Cook in the pan for a few mins each side.
Meanwhile, warm the wraps in a microwave.
To serve, pile the slaw and halloumi into wraps, dollop with the yogurt sauce and scatter with coriander. Serve with the wedges.
(Source: https://www.bbcgoodfood.com/recipes/piri-piri-halloumi-slaw-wraps-sweet-potato-wedges)