Pumpkin Gnocchi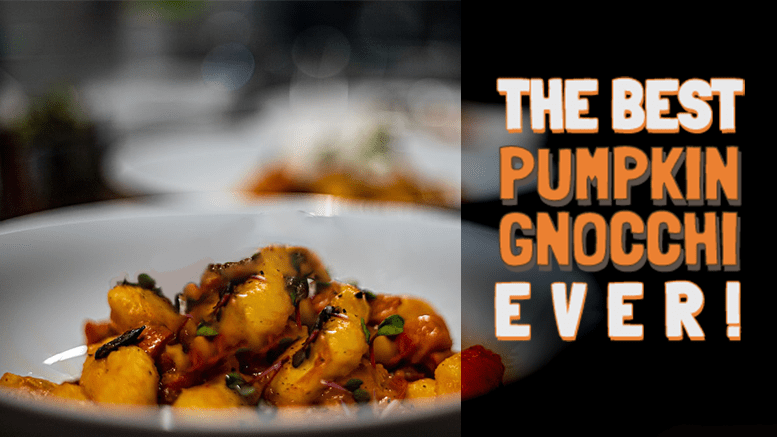 This pumpkin gnocchi recipe should gently guide you into the spooky season with its incredible flavor, and although there's nothing spooky about it, there is certainly something seriously delicious! Let's just say, this pumpkin gnocchi recipe is so awe-inspiring, that it puts the "oo" in "spooky", and the trick to this recipe is treating your tastebuds to the best gnocchi they've ever had!
We heard what you just said – "Surely nothing's better than Qmee's objectively flawless Halloween puns, right!?". Of course, this is absolutely correct (😏) in all cases… except when talking about this pumpkin gnocchi recipe!
What you'll need:
½ cup canned pumpkin puree (not pumpkin pie mix)
½ cup nonfat Greek yogurt (extra liquid drained off)
1 egg
1 egg yolk
1 ½ cup flour or gluten free flour blend (plus more to dust the cutting board)
1 Tablespoon psyllium husk (ONLY if using gluten free flour blend)
¾ teaspoon fine sea salt
Sage Butter Sauce
1-2 Tablespoons olive oil
4 Tablespoons unsalted butter
3 medium cloves garlic (diced)
30 sage leaves
½ teaspoon fine sea salt (plus more to taste)
Pepper (to taste)
2 Tablespoons flour or gluten free flour blend
½ cup starchy water
What you'll need to do:
Step 1
In a large bowl (or the bowl of a stand mixer), combine the pumpkin puree and Greek yogurt. Add in the egg and egg yolk and mix to combine.
Step 2
In a bowl, whisk together the flour or gluten free flour blend, sea salt, and psyllium husk (ONLY add in psyllium husk if you're using a gluten free flour blend). Add the flour mixture to the wet ingredients and stir until the dough is just mixed. You don't want to overwork the dough, because it will activate the gluten and make the gnocchi tougher
Step 3
Transfer the dough ball to a floured surface. Flatten the dough ball a little, and cut it into 6 pieces. Roll each piece out into a rope, and then cut each rope into bite sized pieces (about 8-12 pieces per rope).
Step 4
Bring a large pot of water to a rapid boil. Boil the gnocchi for 3 minutes (or until all of the gnocchi are floating at the top in a consistent layer). Cut one piece in half to make sure it's cooked all the way through. Using a large slotted spoon, scoop out all of the gnocchi and put to the side.
In a large skillet on medium/medium-low heat, add 1-2 Tablespoons olive oil (enough to coat the bottom of the pan).
Step 5
Add the gnocchi to the pan, and pan fry for 6 minutes (or until each gnocchi is golden brown and crispy on a couple of sides), stirring every two minutes.
Step 6
While the gnocchi are sauteing, make the sauce.
Step 7
In a medium heavy bottomed skillet, melt the butter over medium-low heat until it's beginning to brown at the edges.
Step 8
Add in the sage leaves and saute until they are crispy (about 2-3 minutes), then add in the garlic and saute until aromatic (for a further 30 seconds).
Step 9
Add in the salt and pepper, stir to combine.
Step 10
Add in the flour and stir until everything is evenly coated.
Step 11
Add in the starchy water and stir until everything is evenly combined, then turn the heat to low and saute for two minutes.
Step 12
Add the sauce to the gnocchi (watch out for splatter when the sauce hits the skillet) and stir to evenly coat the gnocchi. If you cooked the sauce and the gnocchi at separate times, cook the coated gnocchi on low for about two minutes, or until everything is heated through.
Step 13
Serve with additional pepper to taste, and freshly grated parmesan.
(Source)