Qmee recipes: quick & easy! Date & walnut energy balls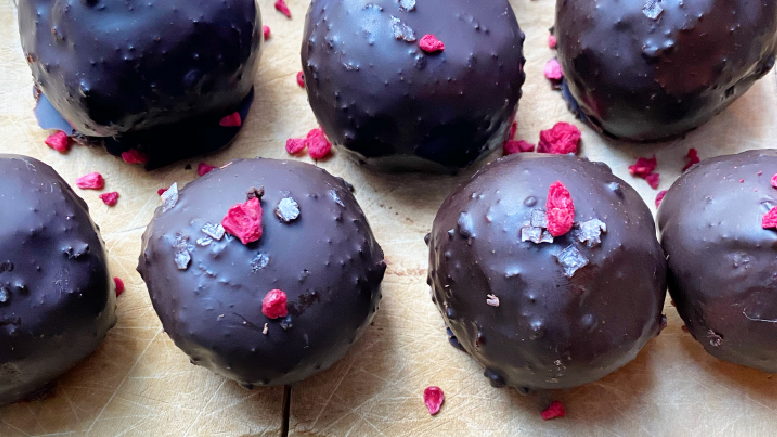 We have another brilliant recipe from our friend at Sophie Sutton Nutrition – take a look at these delicious date and walnut energy balls.
Here's a really quick, healthy snack recipe. These date and walnut energy balls only take a few minutes to make in the blender. They are great to have on hand when working from home to make sure you have healthy treats in the house. Most ingredients you can find in the store cupboard (you can adapt and replace with different nuts etc).
Ingredients…
1 cup of Mejdool Dates Pitted
1/3 cup of Almond Butter
1 cup of Walnuts
1/3 cup of Raw Cacao Powder
2 Tbsp of Coconut oil melted
Pinch of Sea Salt
Chocolate Coating…
100g 70% Dark Chocolate
1 Tbsp of Coconut Oil
Pinch of Sea Salt
Method…
1.First place the pitted Mejdool dates into a high-speed blender with a splash of warm water from the kettle. Blend the dates until they form a paste.
2.Then add the walnuts and pulse until combined.
3.Next add the remaining ingredients, the almond butter, coconut oil, raw cacao and sea salt and blend until a sticky ball forms.
4.Roll the mixture into small tsp size ball shapes.
5.Place onto a plate or into a bowl and then refrigerate.
6.For the chocolate coating melt the coconut oil in a non-stick pan and add the chocolate and sea salt. Stir on a low heat until melted. Pour the chocolate mixture into a separate bowl.
7.Dip each power ball into the chocolate and coat. Sprinkle with sea salt, goji berries or chopped nuts and place back in the fridge.
8.Leave the energy balls for an hour to chill before eating. Enjoy!