Qmee recipes: quick & easy! Moroccan chickpea & lentil stew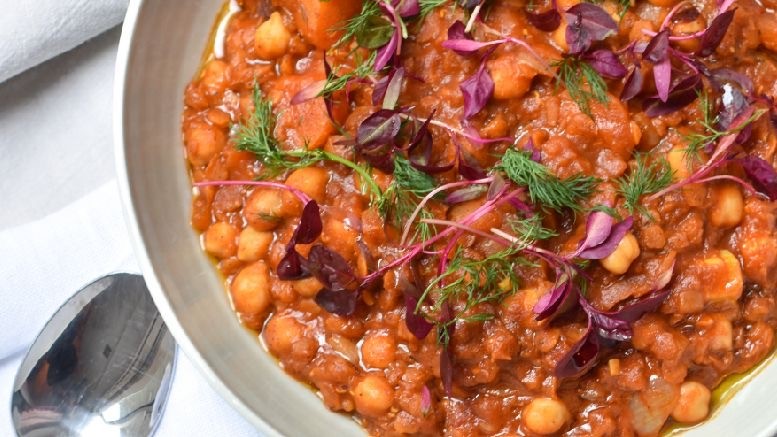 Take a look at this wonderful Moroccan chickpea and lentil stew recipe from our friend at Sophie Sutton Nutrition.
This dish is made from mostly store cupboard ingredients and takes only 30 minutes to prepare. It is full off healthy, nutritious plant-based ingredients and great for the whole family to enjoy. Rich in plant-based proteins, from the lentils and chickpeas, and fibre. Most of the main ingredients you will find in a tin or can in your cupboards and the rest you can adapt or leave out if you don't have an ingredient.
Serves 4
Ingredients…
1 can of Chickpeas
1 Cup of Red Lentils
2 Garlic Cloves
150g of Carrots
1 White Onion
1 + ½ Cup of Passata
1 tsp of Turmeric Powder
1 tsp of Cinnamon
1 tsp of Paprika
1 Tbsp of Harissa Paste
150ml of Vegetable Stock
3 Tbsp of Olive Oil
Herbs of Choice
Salt & Pepper
Optional to Serve…
Dill
Coconut Cream
Method…
1.First chop the onion finely and place into a non-stick pan with olive oil. Sweat the onion until it is soft.
2.Finely chop the garlic and the carrots. Stir the garlic and carrots into the onions.
3.Add the turmeric powder, paprika, cinnamon and harissa paste. Then cover with the passata and simmer on a medium heat. Add the red lentils and the vegetable stock and leave with a lid on the pan to simmer for 10-15 minutes.
4.Once the stew has thickened and the lentils have softened add the chickpeas once drained. Stir in the chickpeas, season to your taste with salt and pepper and add any herbs you may have at hand.
5.Spoon into bowls and top with dill, cream fraiche or coconut cream. Serve alongside brown rice or flatbreads.
Enjoy your chickpea and lentil stew!