Qmee recipes – sausage, mustard & apple hash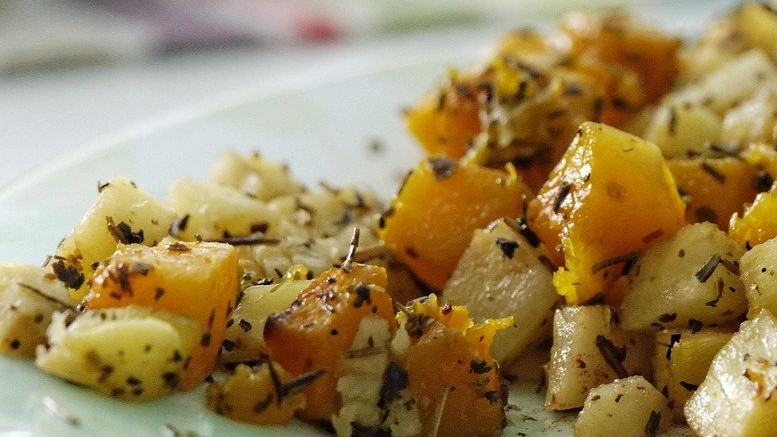 Apple day was celebrated this week on the 21st of October. And what better way to join in the celebration than with a delicious apple recipe.
This week we've found an awesome sausage, mustard and apple hash recipe. Perfect for a quick mid-week dinner or a lazy weekend lunch.
This recipe is filled with hearty flavours combined to give you a meal that everyone will love. Not to mention it's super easy, healthy and great on your wallet too!
Take a look at the ingredients you'll need and the method you'll need to follow.
Here's what you'll need…
5 cups white potatoes, peeled and cut into 2cm cubes
2 tbsp butter
Olive oil, for frying
2 small Cox's apples, cored and cut into wedges
4 herby pork sausages, cut into chunks
2 tsp wholegrain mustard
3 thyme sprigs, leaves picked
Here's what you'll need to do…
1.Bring a large pan of salted water to the boil.
2.Add the potatoes and cook for 4 mins.
3.Drain and leave to steam dry in a colander.
4.Heat half the butter and 1 tbsp olive oil in a large frying pan or shallow casserole dish over medium-high heat.
5.Add the apple wedges and fry on each side for 5 mins or until golden brown and starting to caramelise.
6.Remove with a slotted spoon and set aside on a plate.
7.In the same pan, heat the remaining butter and a little more oil over a medium heat
8.Add the potatoes and sausage chunks.
9.Fry for 10-15 mins, turning every so often until the potatoes and sausage are crisp and golden brown.
10.Season to taste.
11.Stir through the mustard and the apple wedges, then scatter over some thyme leaves
(Source: https://www.bbcgoodfood.com/recipes/sausage-mustard-apple-hash)