Qmee recipes – smoked paprika paella with cod & peas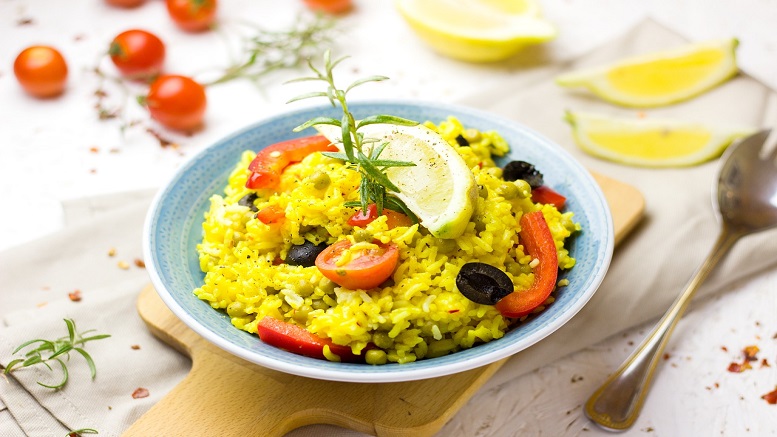 This week's recipe is perfect for when you want something quick and tasty!
Cod is a great source of stress-busting B vitamins and magnesium, so why not enjoy this easy peasy paella that's also packed with three of your five-a-day, iron, folate and fibre.
Take a look at the ingredients and method below.
Here's what you'll need…
1 tbsp rapeseed oil
1 onion, finely chopped
2 garlic cloves, chopped
100g brown basmati rice
1 tsp turmeric
1 tsp smoked paprika
500ml reduced-salt vegetable bouillon
1 large red pepper, deseeded and chopped
1 large courgette, diced
125g frozen peas
300g pack skinless Atlantic cod loins, cut into chunks
⅓ small pack parsley, chopped
½ lemon, cut into wedges
Here's what you'll need to do…
Heat the oil in a non-stick frying pan over a medium-high heat and fry the onion and garlic for a couple of mins to soften.
Add the rice and spices, stir briefly, then pour in the bouillon and add the pepper.
Cover the pan, reduce the heat and leave to simmer for 20 mins.
Stir in the courgette, cover and cook for 10 mins more.
Add the peas and cod, cover the pan and cook for 10 mins more until the rice is cooked and the liquid has been absorbed.
Toss with the parsley and serve with lemon wedges.
(Source: https://www.bbcgoodfood.com/recipes/smoked-paprika-paella-cod-peas)