Qmee Recipes – Spicy seafood spaghetti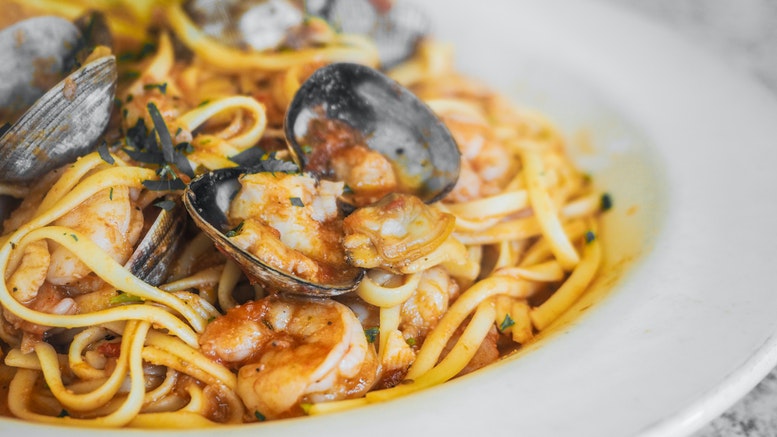 This week we've found a delicious seafood pasta recipe that will leave you wishing for more. If you're looking for a quick and simple, yet impressive dish to prepare for your other half this Valentine's Day then you should definitely give this recipe a go.
This dish is packed with delicious bold flavours and can be made in just 30 minutes. You can adjust the recipe to include your favourite seafood.
Take a look at the ingredients you'll need and the method you'll need to follow.
Here's what you'll need…
1 tbsp olive oil
2 fat garlic cloves, crushed
2 red chillies, deseeded and finely chopped
½ cup white wine (optional)
2 cans plum tomatoes
1 ½ cups dried spaghetti (or pasta of your choice)
A cup of mussels, washed and beards removed (you can ask your fishmonger to do this for you)
1 cup clams, washed
½ cup cooked lobster meat
Chilli oil or olive oil, for drizzling
½ small pack parsley , roughly chopped
Here's what you'll need to do…
1.Cook the spaghetti following pack instructions.
2.Heat the oil in a deep pan, add the garlic and chilli and fry for 1-2 mins over medium heat.
3.Pour in the wine (if using) and simmer for 3-5 mins until it reduces by a third.
4.Tip in the tomatoes, burst them with a wooden spoon and bring to a gentle simmer. Season well.
5.Discard any broken or open clams and mussels, then add to the tomato sauce and cover with a lid.
6.Cook for about 3 mins until the shells open.
7.Stir through the lobster meat.
8.Drain the spaghetti, reserving a little cooking water and add to the pan.
9.Toss the spaghetti with tongs to coat in the sauce.
10.Serve in big bowls with a drizzle of chilli or olive oil, a scattering of parsley and a good grinding of black pepper.
(Source: https://www.bbcgoodfood.com/recipes/spicy-seafood-spaghetti)