Qmee Recipes – Strawberry Cake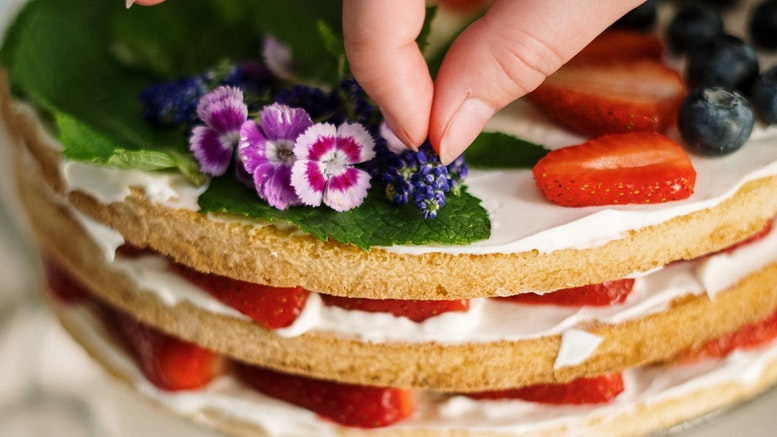 Mother's Day is coming up in the UK on the 14th of March and a great way to say "thank you" is by baking your mum a delicious cake. Baking takes time and we're sure your Mum will appreciate the effort you've gone to in order to do something nice for her.
This week we've found a simple strawberry cake recipe, that's a perfect treat to bake up for Mother's Day. Made up of traditional flavours like a light sponge, strawberry jam and soft cheese icing this cake is sure to put a smile on your mum's face.
Take a look at the ingredients you'll need and the method you'll need to follow.
Here's what you'll need…
1 ¾ cups softened butter, plus more for the tin
2 cups caster sugar
5 large eggs
2 ½ cups self-raising flour
¼ cup natural yoghurt
1 ½ cups strawberries, hulled and halved
2 tsp vanilla extract
For the icing…
¼ cup butter softened
1 cup soft cheese
4 cups icing sugar
1 ¼ cups strawberry jam
Here's what you'll need to do…
1.Butter and line the bases of three 18cm cake tins.
2.Heat the oven to 180C/160C fan/gas 4.
3.Blend the butter and sugar in a food processor until smooth and creamy. 4.Add the eggs, flour and yoghurt and blend again.
5.Add 200g strawberries (save the best ones to decorate) and the vanilla.
6.Blend once more until the mixture is well combined.
7.Divide the cake batter evenly between the three cake tins.
8.Spread and smooth the tops with a spatula, then bake for 25-30 mins, until the cakes have risen and a skewer inserted into the centre comes out clean.
9.Return to the oven for another 5 mins if any wet mixture clings to the skewer.
10.Leave in the tins for 5 mins, then turn onto a wire rack and leave to cool completely. (The cakes can be made up to two days before icing, or frozen for two months.)
For the icing….
1.Blend the butter and half the sugar until smooth and creamy, add the soft cheese and the remaining sugar and blend again.
2.Be careful not to over mix as the icing will become runny. (If you do overmix, don't worry – keep mixing with an electric whisk and it'll thicken back up).
3.Layer the cakes with the jam and half the icing.
4.Invert the final cake on top, so the base of the cake is now the top, giving you a flat surface.
5.Pile the rest of the icing on top of the cake, using a palette knife to spread the icing over the top and down the sides.
6.Save a little icing to pipe rosettes around the edge of the cake if you like.
7.Top with the remaining strawberries.
(Source: https://www.bbcgoodfood.com/recipes/strawberry-cake)