Qmee Recipes – Summer fruit drizzle cake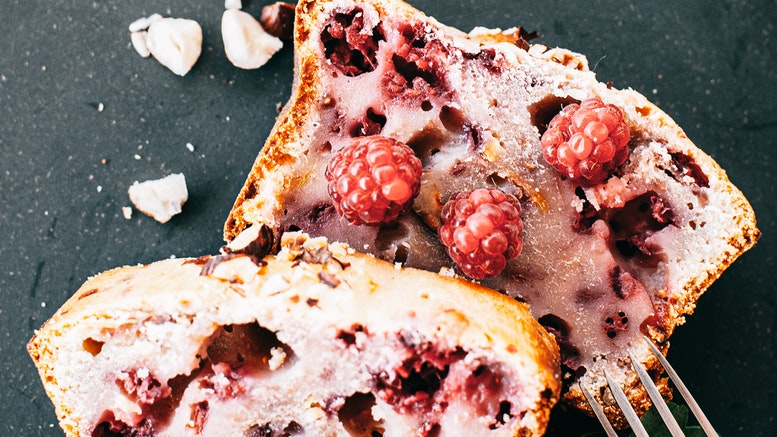 Try this summer fruit drizzle cake recipe. It's sweet, easy and versatile! You can use whatever fruit you like. If you have fruit that's about to go bad, just add it to this super simple recipe and make a delicious cake for the family to enjoy. You'll never have to waste fruit again!  
Take a look at the ingredients you'll need and the method you'll need to follow to create this simple and easy, but absolutely delicious, summer fruit drizzle cake!
Here's what you'll need…
2 large eggs
1 cup fruit, stoned and diced weight
2 tsp vanilla extract
½ cup granulated sugar
1-2 tbsp citrus juice – lemon, lime or orange
¾ cup very soft butter, plus extra for greasing
1 ½ cups self-raising flour
¾ cup golden caster sugar
Here's what you'll need to do…
1.Heat oven to 180C/160C fan/gas 4.
2.Grease a 900g/2lb loaf tin and line the base and ends with a long strip of baking parchment.
3.Put the butter, caster sugar, flour, eggs and vanilla extract into a large bowl and beat with an electric hand mixer for 5 mins until pale and creamy – the mixture will be very thick.
4.Spread one-third of the cake mix into the tin, then scatter over 50g of the fruit.
6.Carefully dot and spread another third of the cake mix on top, and scatter with another 50g fruit.
7.Finally dot the rest of the cake mix over and gently spread with the back of a spoon. Bake for 1 hr, until an inserted skewer, comes out clean.
8.Poke the cake all over with a skewer.
9.Put the remaining 75g fruit into a bowl with the granulated sugar.
10.Stir in 1 tbsp of the citrus juice first with a fork, mashing a little of the fruit as you go.
11.If it's a bit dry, add a splash of more juice and spoon over the cake.
12.Leave in the tin until the cake is cool and the topping is set and crisp.
(Source: https://www.bbcgoodfood.com/recipes/summer-fruit-drizzle-cake)