Qmee Recipes – Tomato & sourdough traybake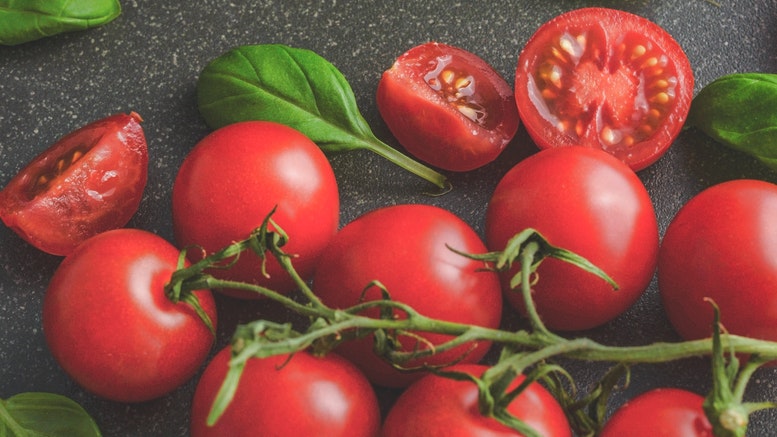 This week, we've found the perfect summer dish, it's light, fresh and super simple to make. That sound like a win to us! This tomato and sourdough traybake is perfect for a fast and easy summer dinner or lunch. Combining the fresh and vibrant flavours of tomatoes and richness of mozzarella and ricotta to provide an explosion of flavour. You should definitely give this recipe a go…
Take a look at the ingredients and method below.
Here's what you'll need…
3 tbsp olive oil, plus more for the tin
1 small aubergine, cut into 3cm chunks
3 cups ripe tomatoes of all different shapes, colours and sizes, some cut into wedges, some halved across the middle (reserving all the juices and seeds)
Pinch sugar
2 tsp red wine vinegar
2 thyme sprigs, leaves picked, plus more to serve
½ tsp coriander seeds
½ tsp chilli flakes
1 cup sourdough, torn into chunks
2 shallots, peeled and sliced lengthways
2 tbsp kalamata olives, pitted and torn in half
4 eggs
½ cup ricotta
10g parmesan or vegetarian alternative, grated
1 ball of mozzarella, torn into chunks
A handful of watercress lightly dressed in vinaigrette, to serve (optional)
Here's what you'll need to do…
1.Oil a large brownie tin or roasting tin.
2.Put the aubergine in a sieve and scatter over ½ tsp salt.
3.Rub the salt all over the aubergine and leave it to drain over a bowl or the sink for 30 mins.
4.While they're draining, toss the tomatoes in a bowl with a pinch of salt, sugar, vinegar and thyme leaves.
5.Heat the oven to 180C/160C fan/gas 4.
6.Wipe away any excess salt and moisture from the aubergine.
7.Heat 2 tbsp of the olive oil in a non-stick frying pan over medium to high heat, then add the coriander seeds. When they're sizzling, stir in the aubergine and chilli flakes.
8.Cook, stirring for 15-20 mins until the aubergine is caramelised and soft in the middle.
9.Tip into the bowl with the tomatoes and add the bread, shallots, and olives.
10.Tip the mixture into a roasting tray and level it out.
11.Drizzle over the rest of the olive oil and bake for 20 mins.
12.Whisk the eggs with the ricotta, parmesan and seasoning, then pour over the veg and add the mozzarella, tucking it into the traybake, so it's not all sitting on top.
13.Return to the oven for another 15 mins, until the sourdough is crisp and golden and the cheese is melted.
14.Serve garnished with the watercress in vinaigrette if you like.
(Source: https://www.bbcgoodfood.com/recipes/lazy-summer-tomato-sourdough-traybake)