The BEST Roast Turkey Tips & Recipe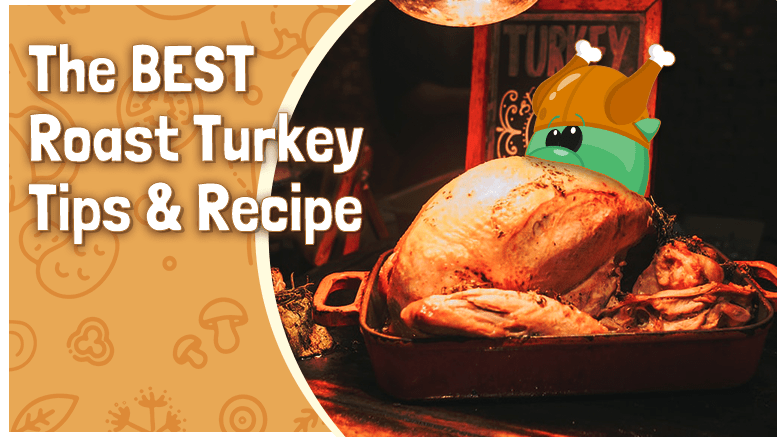 Happy Thanksgiving everyone! Whether you're spending this Thanksgiving Day with friends, family, or even your pet tortoise, there's one thing that CANNOT go amiss, can you guess what it is? You got it – roast turkey! With this recipe & tips combo you'll be making the best roast turkey that you've ever had (not including mom's best, of course… she'll always win)!
[DISCLAIMER]
Due to the inevitability of you thoroughly enjoying this roast turkey, for health reasons we have to urge you to avoid the temptation to make it every single day, despite how hard that'll be! (this isn't a real disclaimer, don't worry)
What you'll need:
1 (12-14 lb.) whole turkey, neck and giblets removed
Kosher salt, about 2 tbsp. if not brined
Freshly ground black pepper
1 onion, cut into wedges
1 bunch thyme
Small handful rosemary sprigs
Small handful sage leaves
1 head garlic, halved crosswise
4 tbsp. melted butter
4 c. low-sodium chicken broth
What you'll need to do:
Step 1
Position rack to the lower third of your oven and preheat the oven to 450°F (230°C). Pat the turkey dry with paper towels and season the cavity generously with salt and pepper. Stuff the cavity with onion, thyme, rosemary, sage, and garlic. Tie the legs together with kitchen twine and tuck the wing tips under the body to prevent burning.
Step 2
Brush melted butter all over the turkey then season generously with more salt and pepper. Place turkey breast side up on a roasting rack fitted inside a large pan. Pour chicken broth into the pan. Transfer to the oven and cook for 30 minutes, then reduce oven temperature to 350F° (176°C).
Step 3
Continue roasting, basting every 30 to 45 minutes with the juices on the bottom of the pan, until internal meat temperature reaches 165°F (74°C) or until the juices run clear when you cut between the leg and thigh, about 3 to 4 hours.
Step 4
Tent cooked turkey with aluminum foil and let it rest for 20 minutes before carving.
Tips:
The Size of Your Bird
Buy about 1 1/4 lb. turkey per person.
Take the Time to Thaw
If you bought your turkey frozen, be sure to give it at least 1 day in the fridge to defrost fully. Depending on its size, larger birds will likely need 2 days to defrost completely. According to the USDA, a frozen turkey requires about 50% more time in the oven than a fully thawed turkey, so we highly recommend starting with a fully defrosted turkey.
Don't Skimp on Seasoning
After patting your turkey dry, season the inside cavity generously with salt and pepper before stuffing it full of your onion, thyme, rosemary, sage, and garlic. Also, season under the skin—legs and breasts. And don't forget to brush the outside of your bird with melted butter and season the outside with salt and pepper before putting it all on the tray to roast.
Give It a Hot Start
We like to blast the turkey with extremely hot heat (450°) for the first 30 minutes to get the skin really crispy; we then drop the temp to 350º so that the rest of the bird can cook through without burning.
The Secret to Perfectly Browned Skin
The short answer? A dry brine, and plenty of butter. If you're looking for perfectly browned skin, a little extra effort goes a long way. Once your turkey is totally thawed, pat it completely dry and season with salt and pepper. Let sit in the refrigerator uncovered for 24 to 48 hours. This will allow the skin to release additional moisture prior to cooking, encouraging crispier skin. Then, you can stuff and brush with butter — LOTS of butter — before cooking. It's key for crispy, flavorful, golden skin.
Cooking Time
As with cooking anything, the cooking time here depends on a number of things, including whether or not the bird is stuffed, how big it is, and if it has been thawed. A 12- to 14-lb. turkey needs anywhere from 3 to 4 hours in the oven, but an 8-pounder will likely only need 2 hours and 45 minutes.
Cooking time will also depend on the accuracy of your oven temperature (some ovens run hotter than others). Use an oven thermometer to make sure you get an accurate reading for the oven temperature, and a probe thermometer to make sure your turkey has completely cooked through. The probe thermometer should be inserted into the thickest part of the thigh and read at least 170°. Take the temperature of the breast as well, inserting the thermometer at an angle into the thickest part and look for a reading of at least 165° degrees.
Let it Rest
After your turkey emerges from the oven, let it rest for at least 20 minutes before carving — just like you would with steak. To keep it warm, cover the bird with some foil. To prevent turning the perfectly golden skin soggy, be sure to create a fold in the foil so that you can "tent" it over the bird so that it does not directly touch the turkey and trap in moisture.
(Source)