The ULTIMATE Grilled Portobello Burgers!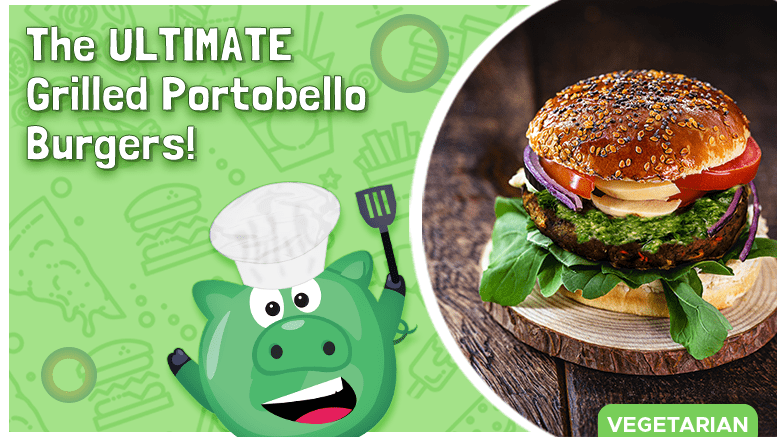 Did you know that portobello mushrooms were created in a laboratory by combining the porto molecule and the bello molecule!? You didn't? Well, that would be because it was a lie! You know what isn't a lie? It's the amazing flavor combo created in this recipe for grilled portobello burgers!
Whether you're a vegetarian or simply a burger enthusiast, this grilled portobello recipe is sure to have your taste buds celebrating and craving your next bite!
What you'll need:
2 large portobello mushroom caps
3 tablespoons olive oil
3 tablespoons balsamic vinegar
Pinch sea salt
1 small eggplant, cut into ¼- to 1/2 -inch rounds
1 roasted red bell pepper, I used store-bought
¼ small red onion, sliced
¼ cup pesto sauce
Handful baby arugula
2 burger buns of choice, toasted
2 slices havarti cheese
What you'll need to do:
Step 1:
Add the olive oil and balsamic vinegar to a small blender and blend well until smooth. Wash and pat dry the portobello caps and transfer them to a sealable container (or zip-lock bag) along with the balsamic marinade. Allow the mushrooms to marinate at least 15 minutes, up to 1 hour.
Step 2:
Heat the grill to medium and brush the eggplant slices with olive oil and sprinkle with salt and pepper.
Step 3:
Place the portobello mushrooms and the eggplant on the hot grill and cover. Cook until grill marks appear, about 2 to 3 minutes for the eggplant and about 5 to 7 minutes for the mushrooms. Flip and continue cooking until vegetables are juicy, tender, and cooked through, about another 2 to 3 minutes for the eggplant and 5 to 7 minutes for the mushrooms. Transfer vegetables to a plate.
Step 4:
Toast two buns with havarti cheese (or your choice) and layer with a grilled portobello mushroom, a few slices of eggplant, roasted red bell pepper, red onion, and arugula. Drizzle on your desired amount of pesto sauce and serve.
(Source)