Qmee Recipes – Tropical breakfast bars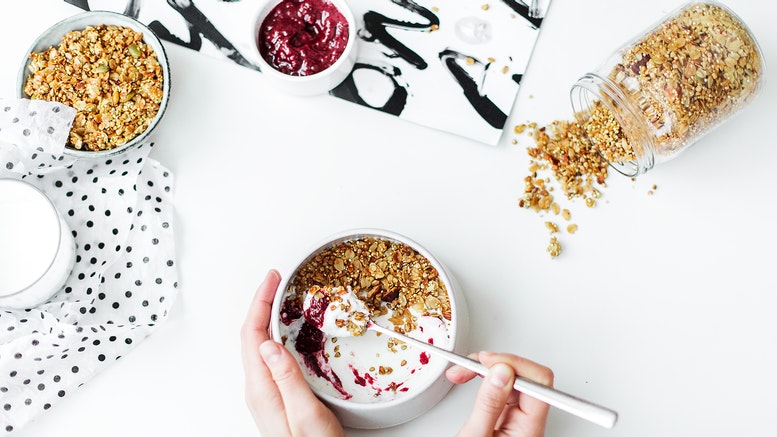 We all know how the saying goes: 'breakfast is the most important meal of the day!'. This is normally spoken by people who jump out of bed in the mornings and start their day with a 5K run. But, if you're a parent or just enjoy a little extra longer in bed, breakfast can seem like a total inconvenience. Well, these tropical breakfast bars might just be the solution to that problem. They're tasty, nutritious, and you can make them in advance! This means that you can grab & go for breakfast whilst still getting all the fuel you need to start your day!
Serves 10
What you'll need…
3 tbsp vegetable oil, plus extra for the tin
2 large, very ripe bananas
1 large egg, beaten
⅔ cup light brown soft sugar
3 cups nutty muesli
1 cup tropical dried fruit mix
What you'll need to do…
-Heat the oven to 180C/160C fan/gas 4.
-Lightly oil and line a 20cm deep square tin with baking parchment.
-Mash the bananas in a bowl until smooth, then stir through the oil, egg and sugar.
-Fold through the muesli, most of the tropical mix and a pinch of salt.
-Spoon the mixture into the tin and sprinkle with the remaining tropical mix.
-Bake for 35-40 mins, leave to cool in the tin, then turn out onto a board and slice into 10 bars.
TIP: Will keep in an airtight container for four days.
Check out this recipe for pumpkin pancakes if you have more time and want a more indulgent breakfast!

(Source: https://www.bbcgoodfood.com/recipes/tropical-breakfast-bars)