Qmee Recipes – Ultimate roast potatoes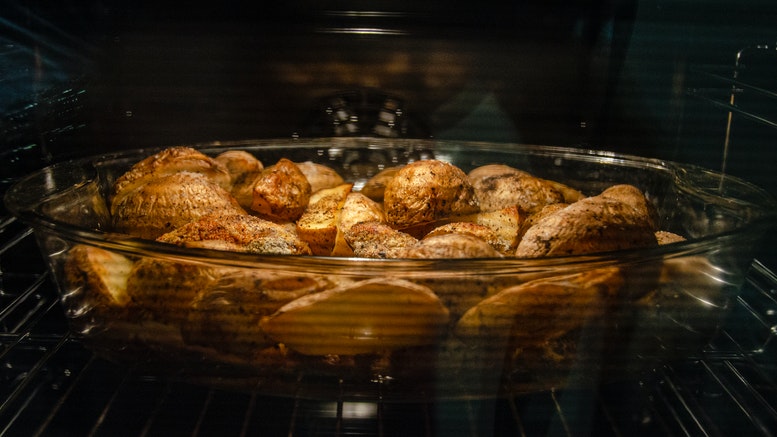 Christmas is just days away – ahh! How exciting! Many of us will be looking forward to our festive dinner: turkey, mash, gravy, stuffing & roast potatoes. For most of us, roast potatoes are an essential part of the Christmas dinner, and getting them right is a must. So, here at Qmee we thought we'd give you a super simple & easy to follow roast potato recipe for those a bit worried about getting those perfect crispy-on-the-outside-but-soft-on-the-inside potatoes!
Serves 4
Gather your ingredients…
2.2lbs Maris Piper potatoes
¼ cup + 3 tbsp duck or goose fat (for a luxurious taste), or olive oil
2 tsp flour
Maldon salt, to serve
What you need to do…
-Put a roasting tin in the oven (one big enough to take the potatoes in a single layer) and heat the oven to 200C/fan 180C/gas 6.
-Peel the potatoes and cut each into 4 even-sized pieces if they are medium size, 2-3 if smaller (5cm pieces).
-Drop the potatoes into a large pan and pour in enough water to barely cover them.
-Add salt, then wait for the water to boil.
-As soon as the water reaches a full rolling boil, lower the heat, put your timer on and simmer the potatoes uncovered, reasonably vigorously, for 2 mins.
-Meanwhile, put the duck or goose fat or the olive oil into the hot roasting tin and heat it in the oven for a few mins, so it's really hot.
-Drain the potatoes in a colander then shake the colander back and forth a few times to fluff up the outsides.
-Sprinkle with 2 tsp flour and give another shake or two so they are evenly and thinly coated.
-Carefully put the potatoes into the hot fat – they will sizzle as they go in – then turn and roll them around so they are coated all over.
-Spread them in a single layer making sure they have plenty of room.
-Roast the potatoes for 15 mins, then take them out of the oven and turn them over.
-Roast for another 15 mins and turn them over again.
-Put them back in the oven for another 10-20 mins, or however long it takes to get them really golden and crisp. The colouring will be uneven, which is what you want.
-Scatter with Maldon salt and serve straight away.
If you're looking for some inspiration to give your roast dinner a twist, try this recipe for sage and onion yorkshire puddings!
(Source: https://www.bbcgoodfood.com/recipes/ultimate-roast-potatoes)