Qmee recipes – vegetarian wraps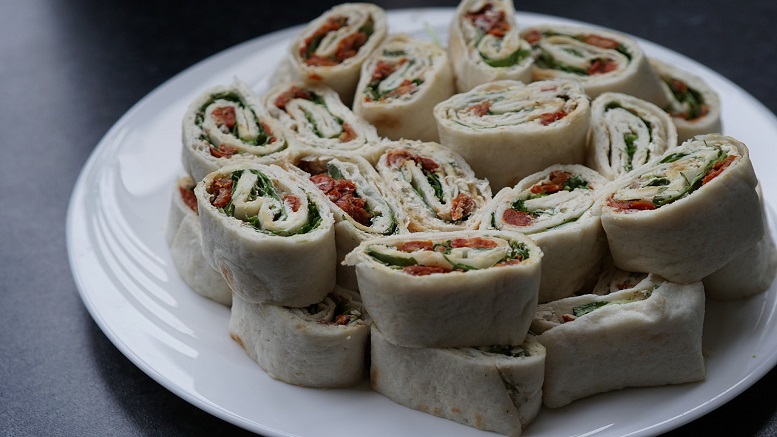 Try these flavor-packed veggie wraps filled with pickled onions, roasted veg, coconut tzatziki and spicy green sauce. They will feed four people for under £10/$14 – perfect for a hungry crowd!
Take a look at the ingredients and method below.
Here's what you'll need…
2 red onion
3 tbsp cider vinegar
2 courgettes
1 large red pepper
Half a cauliflower
400g can chickpeas
3 tsp coriander seeds
2 tsp garam masala
350g self raising flour
500g natural yogurt
small bunch coriander
100g pot coconut chunks
Small bunch mint
2 limes
Half a cucumber
2 garlic cloves
1 shallot
1 green chilli
Salt, pepper, sugar and olive oil
Here's what you'll need to do…
To make the sweet pickled onions, slice one red onion into thin half moons. Put 2 tbsp cider vinegar in a small pan with 1 tbsp sugar and 1 tsp salt. Heat until almost boiling, then pour over the onions and leave for 2 hrs, by which time they will be sweet and crunchy.
To make the roasted veg, heat oven to 180C/160C fan/gas 4. Chop the courgettes, remaining red onion, the red pepper and cauliflower into bite-sized pieces. Tip into a baking tray with the chickpeas, plus 1 tbsp of the starchy water from the can. Pour over a good glug of olive oil, add 2 tsp of the coriander seeds, the garam masala, a sprinkle of salt and pepper, and mix everything together with your hands. Cook in the oven for 45 mins, but give them a good shake after 30.
For the flatbreads, mix the flour with 350g of the yogurt, the remaining 1 tsp coriander seeds, and all the coriander stalks, finely chopped. It will come together quickly into a dough. Take a golf ball-sized chunk and roll it out on a floured board until it's the thickness of a 20p coin, then dry-fry in a hot frying pan for about a minute on each side. When done, brush each flatbread on one side with some olive oil.
To make the tzatziki, blitz 1/4 of the pot of coconut chunks in a blender until it resembles breadcrumbs, then set aside. Pour the remaining 150g yogurt into a bowl. Finely chop half the mint leaves and add to the bowl along with the juice of 1 lime. Grate in the cucumber and a garlic clove, then add the coconut. Season and mix.
To make the spicy green sauce, put the rest of the coconut chunks in a blender with the rest of the coriander and mint leaves, a peeled clove of garlic, the peeled shallot, chilli, the juice of a lime, 1 tbsp cider vinegar, and 1 tsp brown sugar. Blitz until smooth.
Take a flatbread, load it with a handful of vegetables, then a big spoonful of tzatziki and spicy green sauce, then a sprinkling of sweet pickled onions. Wrap it up, and tuck in to this delicious vegetarian dish!
(Source: https://www.bbcgoodfood.com/recipes/vegetarian-wrap-four-ways)