The #1 Guide to Couponing: How to Save Big on Your Grocery Bill (2023)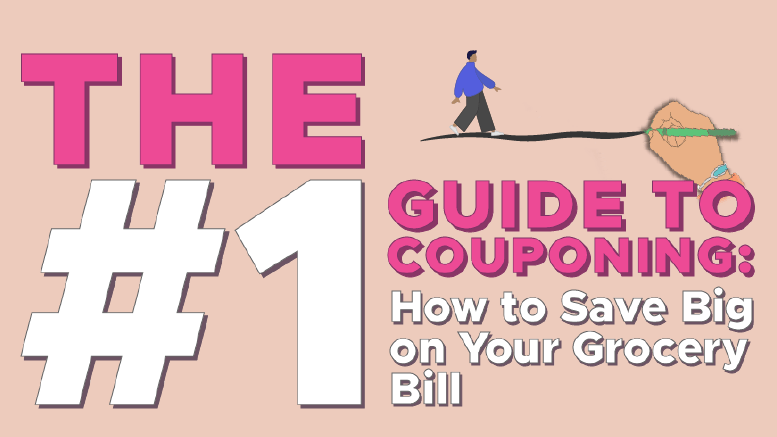 Are you tired of feeling like your grocery bill is draining your bank account faster than a kid slurping their favorite milkshake? Well, get ready to do a happy dance, because we've got some seriously awesome news for you; welcome to the #1 guide to couponing, we're pumped to show you the ropes on how to save BIG on your grocery bill!
So go ahead, grab a cup of coffee (or a glass of 'adult juice'… we don't judge!), and get ready to unleash your inner bargain-hunter with our comprehensive guide to couponing!
Understanding Couponing Basics
What are coupons?
Coupons are a type of discount offered by manufacturers or stores to encourage customers to purchase their products.Their use has become increasingly popular in recent years, with many people seeking out deals and discounts in order to save money.
Where can I find them?
Coupons can be found in newspapers, online, or through mobile apps, and can be used at checkout to reduce the price of the product.
To step up your couponing game, think about enrolling in a store's rewards program. A lot of stores have loyalty programs that give members access to exclusive discounts and coupons. Plus, some stores provide extra perks for purchasing particular products or reaching a specific spending threshold.
How can I use them to maximize my savings?
One way to maximize the value of your coupons is to stack them, which means using a manufacturer coupon and a store coupon together for the same product.
Doubling is another way to increase your savings, which means the store will double the value of the coupon up to a certain amount.
Building a Couponing Strategy
Before you begin
Before starting your couponing journey, it's important to set a realistic budget and goals for your grocery spending.
If you're looking to save money on your grocery expenses, couponing can be a great option. However, it requires some effort in terms of planning, staying organized, and adhering to ethical practices. By implementing the tips and strategies mentioned above, you can become a smart and efficient couponer, and enjoy the benefits of having more cash in your wallet.
Strategies:
One strategy is to stockpile non-perishable items when they are on sale, so you can save money in the long run by avoiding buying them at full price. Shopping the sales is another way to maximize your savings, by planning your meals around what's on sale at the store that week.
Ultimately, it is up to you how you plan to strategize, but what's most important is that you do whatever fits most comfortably to your lifestyle. So, don't fill your entire home with stacks of coupons if you aren't willing to wade through them!
Finding Coupons
Where to begin your search
You can go the traditional route by starting your couponing journey by looking for coupon inserts in the Sunday newspaper, of which manufacturer and store coupons for a variety of products are included.
Alternatively, you could dive into the modern world by using online coupon websites like Coupons.com or SmartSource to find printable coupons for grocery items or you could download apps for your smart device like Flipp or Krazy Coupon Lady to gain access to digital coupons that you can browse weekly for ads for popular grocery stores.
Also, be sure to take advantage of loyalty programs offered by your favorite stores to receive additional discounts and coupons.
Using Coupons at the Grocery Store
The Fine Print
It's critical that you make sure to read the fine print on your coupons, because you don't want to discover that there were limitations or exclusions that you were otherwise unaware of.
Some coupons may only be valid for certain items or sizes, while others may not be combinable with other offers. Additionally, coupons may have expiration dates, usage limits, or other terms and conditions that you should be aware of. By taking the time to read the fine print on your coupons, you can avoid any surprises at the checkout and ensure that you're getting the best possible deal.
Bulk Buying
Buying in bulk can save you money on non-perishable items like paper products or canned goods, so, it can often be the best choice, rather than using the coupons immediately (but again, do check the fine print, you don't want to be too late to cash them in!).
One way to save money when buying in bulk is to compare prices per unit, rather than simply looking at the total price of the package. Additionally, be sure to check for sales and coupons to maximize your savings. Finally, consider sharing bulk purchases with friends or family to split the cost and avoid excess waste.