The Top 5 Podcasts for Career Success & Inspiration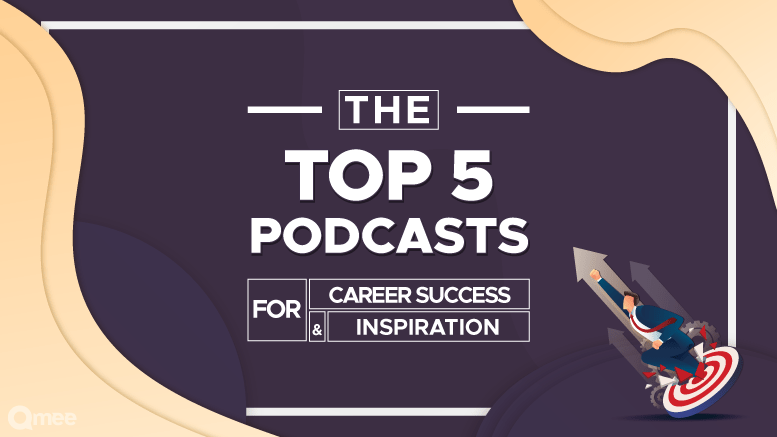 In today's fast-paced world, podcasts have become one of the most powerful tools for personal and professional development. For that very reason, we've gathered the top 5 podcasts for career success & inspiration for you guys!
These 5 podcasts are not only informative and inspiring, but they should also set you on your way to gaining the necessary amount of motivation and knowledge needed to excel in your chosen career path.
"How I Built This" – by Guy Raz
Hosted by the talented Guy Raz, "How I Built This" takes listeners on a captivating journey behind the scenes of some of the world's most successful companies and brands. In each episode, Guy Raz interviews the founders and visionaries who turned their ideas into thriving businesses.
From Airbnb to Spanx and everything in between, this podcast uncovers the trials, tribulations, and triumphs of entrepreneurship. Through these stories, you'll gain valuable insights into the mindset, strategies, and challenges faced by industry leaders, inspiring you to take bold steps in your own career.
"The GaryVee Audio Experience" – by Gary Vaynerchuk
If you're looking for an extra dose of motivation and no-nonsense advice, "The GaryVee Audio Experience" is the podcast for you. Hosted by the energetic Gary Vaynerchuk, this show covers a wide range of topics related to entrepreneurship, marketing, and personal growth.
Gary's candid and passionate style resonates with listeners, as he shares his experiences, failures, and strategies for achieving success. Whether you're an aspiring entrepreneur or a professional seeking a career boost, this podcast will provide you with the inspiration and practical advice you need to thrive.
"Women at Work" – by Harvard Business Review
"Women at Work" is a podcast by Harvard Business Review that specifically addresses the challenges and opportunities women face in the workplace. Hosted by Amy Bernstein, Sarah Green Carmichael, and Nicole Torres, this podcast provides insights and practical advice for women striving to advance their careers.
Each episode features interviews with successful women leaders, discussing topics such as negotiation, work-life balance, leadership, and diversity. With a focus on empowering women in the professional sphere, this podcast offers valuable perspectives and strategies to help women navigate their careers and achieve success.
"The School of Greatness" – by Lewis Howes
"The School of Greatness" is a podcast hosted by former professional athlete and entrepreneur Lewis Howes. Through inspiring interviews with thought leaders, athletes, and successful individuals from diverse backgrounds, Lewis explores the mindset, habits, and principles that contribute to greatness.
The episodes cover a wide range of topics, including personal growth, resilience, health, and entrepreneurship. By listening to this podcast, you'll gain valuable insights and actionable strategies to overcome obstacles, tap into your potential, and create a fulfilling career.
"The Marie Forleo Podcast" – by Marie Forleo
Marie Forleo, a successful entrepreneur, author, and motivational speaker, hosts "The Marie Forleo Podcast." With her infectious energy and passion, Marie offers guidance and inspiration for creating a meaningful and fulfilling career. Each episode explores topics such as entrepreneurship, personal growth, creativity, and mindset.
Marie's interviews with experts and thought leaders provide valuable insights, strategies, and tools that listeners can apply to their own career journeys. Whether you're an aspiring entrepreneur or seeking to enhance your professional life, this podcast offers a wealth of wisdom and actionable advice.