Qmee recipes – Halloween pumpkin chocolate chip muffins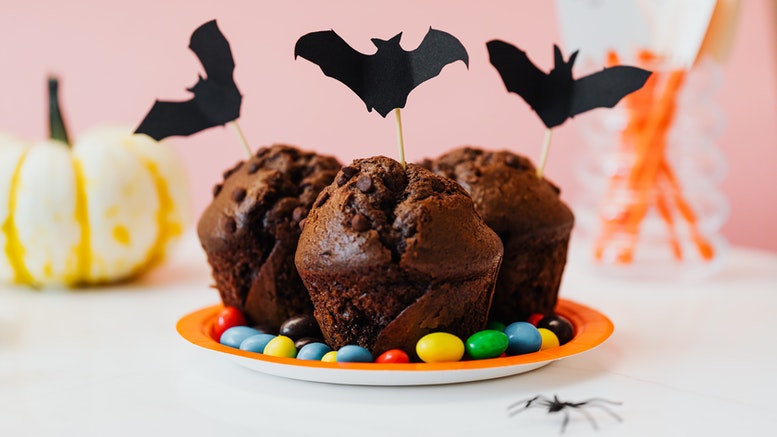 These Halloween inspired pumpkin chocolate chip muffins are the perfect sweet treat.
With classic Halloween flavours like pumpkin and chocolate chips, this recipe is great for parties or a quick lunchtime snack. The whole family will love these pumpkin chocolate chip muffins and they make the perfect school or work lunch-tin addition too.
Plus, the recipe is extremely easy to follow
Take a look at the ingredients you'll need and the method you'll need to follow.
Here's what you'll need…
¾ cups caster sugar
¼ cup of vegetable oil
2 eggs
½ cup +2 tbsp pumpkin puree
¼ cup of water
1 ¼ cups plain flour
¾ tsp baking powder
½ tsp bicarbonate of soda
¼ tsp ground cloves
½ tsp ground cinnamon
¼ tsp salt
¼ tsp ground nutmeg
½ cup of chocolate chips
Here's what you'll need to do…
1.Preheat the oven to 200 C / Gas 6.
2.Grease and flour muffin tin or use paper cases.
3.Mix sugar, oil and eggs.
4.Add pumpkin and water.
5.In separate bowl mix together the flour, bicarb, baking powder, spices and salt.
6.Add wet mixture and stir in chocolate chips.
7.Fill muffin cases 2/3 full with batter.
8.Bake in the preheated oven for 20 to 25 minutes.
(Source: http://allrecipes.co.uk/recipe/8103/pumpkin-chocolate-chip-muffins.aspx )