How-To – Christmas tree napkins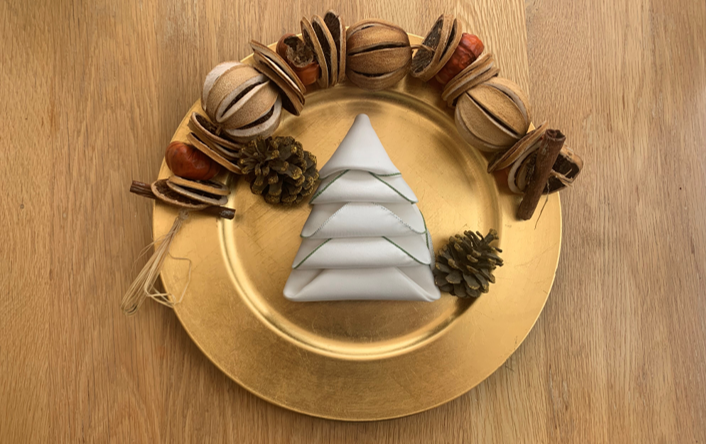 Decorating the table for Christmas can be super fun when you get creative! One cool way to get your table to look extra special is by folding napkins. That's why this year, we decided to put together a 'how-to' guide for Christmas tree napkins!
These super easy, minimal table decorations add a special handmade touch to the festivities, and all you need are napkins! You can also personalize what you've created, by adding wrapping stars or miniature tinsel to your tiny Christmas trees. Follow along with the steps below to create your Christmas tree napkins!
Step 1:
Unfold your napkin, and lay it out on a flat surface.
Step 2:
Fold your napkin in half and half again.
Step 3:
Turn your napkin so that the open edges are facing you. Then, grab the top layer of napkin and fold it upwards towards the point leaving a gap between the fold and the point.
Step 4:
Keep folding up each of the flaps, leaving an equal distance between each fold.
Step 5:
Flip the napkin over so that the point is pointing away from you, and fold the right hand corner into the left hand edge. Do the same with the left corner, folding it into the right hand edge.
Step 6:
Keeping all your folds in place, flip the napkin over again.
Step 7:
Starting from the top, fold the top flap underneath itself. Fold the rest of the flaps upwards, underneath the fold above.
Step 8:
Place it on your festive table & decorate! If you have any wrapping stars to hand, you can use them to put a star on your tree!
There you have it – Christmas tree napkins! If you're looking to update your dining set this Christmas, check out our cashback offers and deals on a wide range of homeware brands!
Also, if you haven't had chance to wrap your presents yet, take a look at our how-to guide for a simple way to wrap gifts!