Qmee Recipes – Caramel filled cupcakes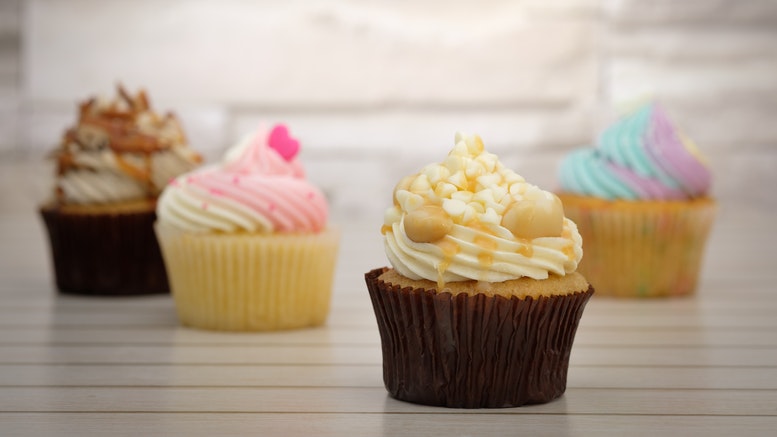 If you love the sweet, nutty, buttery flavour of caramel then this week's recipe is for you. We have found a delicious caramel-filled cupcake recipe this week. These individual sponges are filled with a sweet and delicious caramel centre and not only do they look amazing, but they also taste just as good. But don't just take our word for it – why not try them for yourself!
Take a look at the ingredients and method below.
Here's what you'll need for the cupcakes…
¾ cup butter softened
¾ cup light muscovado sugar
2 large eggs
1 cup self-raising flour
2 tbsp milk
For the icing…
1 ¼ cups of canned Caramel
1 tub of full-fat cream cheese
¼ cup salted butter softened
3 cups of golden icing sugar
Here's what you'll need to do…
1.Heat oven to 180C/160C fan/gas 4 and line a 12-hole muffin tin with cases.
2.Put the butter and sugar into a mixing bowl, cream with an electric whisk until smooth and pale.
3.Add the eggs and whisk again, then add the flour and milk, and mix with a spatula until well combined.
4.Divide the mixture between the muffin cases.
5.Bake for 18-20 mins until springy and a skewer comes out clean. Leave to cool.
6.Mix ½ cups of the Caramel with the cream cheese, butter and icing sugar with an electric hand whisk, until smooth. Chill for 10 mins.
7.Cut a hole in the centre of each cupcake (we used an apple corer) and fill it with the remaining Caramel.
8.Transfer the icing to a piping bag fitted with a round nozzle and swirl over the cupcakes.
9.Will keep for 3 days if kept in the fridge
(Source: https://www.bbcgoodfood.com/recipes/caramel-button-cupcakes)