DELICIOUS 'Marry Me Chicken'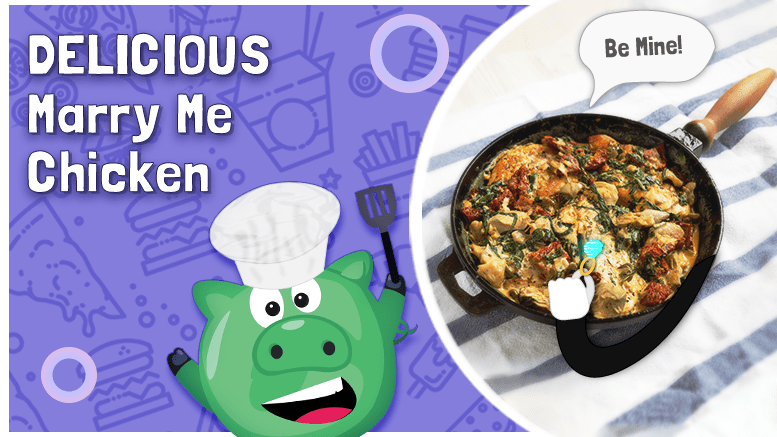 We heard you say "Marry a Chicken? That's clucking insane, why would I do that!?", but don't fret, we aren't providing a guide to chicken marriage… that's a little out of our expertise! However, what isn't, is our ability to put consistently tasty food recipes in front of you guys! Our promise to you is that when asked "Do you know how to make THE MOST delicious Marry Me Chicken?" you can safely say "I DO"!
What you'll need:
1/4 cup all-purpose flour
1/2 teaspoon salt
1/4 teaspoon black pepper
2 pounds chicken breast cutlets
2 tablespoons canola oil
1 tablespoon butter
3 cloves garlic, minced
3/4 cup chicken stock
1/3 cup sun-dried tomatoes, sliced into thin strips
1/2 teaspoon red pepper flakes
1/4 teaspoon oregano
1/4 teaspoon thyme
3/4 cup heavy cream, warmed
1-1/2 cups fresh baby spinach, washed and dried
1 cup freshly grated Parmesan cheese, plus extra for garnish
Chopped fresh basil for garnish
What you'll need to do:
Step 1:
Whisk together the flour, salt and pepper in a large, shallow dish. Dredge the chicken cutlets one at a time, coating both sides of each cutlet completely in flour.
Step 2:
Heat a large, nonstick skillet over medium-high heat and add in the oil. Add 2-3 cutlets to the pan (don't crowd them) and cook for 3-4 minutes on each side, until they're lightly browned and cooked through. Move the chicken to a plate. Continue cooking the rest of the cutlets. Hold the cooked chicken aside.
Step 3:
Reduce the heat under the skillet to medium, and add the tablespoon of butter to the pan. When it's melted, add the minced garlic and saute for 30 seconds to a minute until fragrant but not burned. Pour in the chicken stock, and stir in the sliced sun-dried tomatoes, red pepper flakes, oregano and thyme. Simmer the mixture for a minute.
Step 4:
Pour the warmed heavy cream into the pan. Simmer the sauce for about 5 minutes, stirring occasionally. Add in the baby spinach and grated Parmesan. Stir the sauce gently for another minute or so until the spinach wilts.
Step 5:
Slide the cooked chicken cutlets into the sauce, and let them simmer for 3-4 minutes, spooning sauce over them, until they're warmed through.
Step 6:
Place the chicken cutlets on plates and spoon sauce over them. Sprinkle grated Parmesan and chopped basil over the tops and serve immediately.
(Source)