Easy Pepperoni Pizza & Ranch Dip Recipe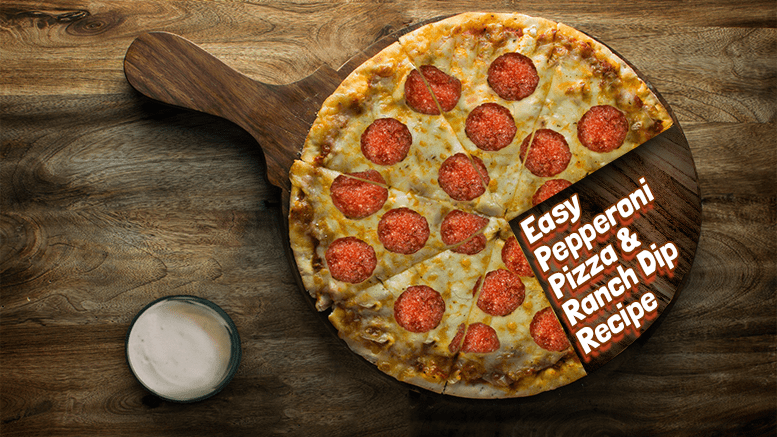 You might not have your own state of the art pizza oven, but that doesn't mean you can't dust off you're old Umberto Tozzi vinyl and get your show on the road as a pizza chef! This easy pepperoni pizza & ranch dip recipe will have you shouting "squisito!" in no time. Who needs an amazing pizzeria, when you can have an amazing pi-zza-here!
What you'll need:
Pizza
16 ounces pizza dough, store-bought or homemade (I like this no-knead version, though note that this recipe makes enough dough for 2 pizzas)
1/2 cup pizza sauce (see below)
18 to 20 slices pepperoni
12 ounces mozzarella cheese, grated
1/2 teaspoon ground black pepper
1 teaspoon fresh oregano, optional
Flour for rolling and shaping dough
Pizza Base Sauce
1/2 cup tomato sauce (no salt)
1/2 teaspoon kosher salt
1/2 teaspoon ground black pepper
1/2 teaspoon granulated garlic
1/2 teaspoon granulated onion
1/4 teaspoon red pepper flakes
1 teaspoon olive oil
Ranch Dip
Real mayonnaise
Sour cream
Dry chives
Dry parsley
Dry dill
Garlic powder
Onion powder
Salt
Black pepper
Worcestershire sauce
What you'll need to do:
Pizza
Preheat the oven:
Preheat the oven to 500°F. If you are using a pizza stone, preheat it in the oven for at least 20 minutes so it is nice and hot as well.
Make the sauce:
If you are using my sauce recipe, stir together the ingredients. The sauce recipe makes just enough for one large pizza. You can easily double it if you are making more than one pizza.

Roll out the dough:
Roll out dough on a lightly floured surface. If it's hard to roll, let it rest for 5 minutes so it can come to room temperature. For a large pizza, I like to roll my dough into about a 14-inch diameter circle.

Add the toppings:
Transfer the dough to a lightly dusted pizza peel. Alternatively, fit it into a large cast-iron.
Add sauce in a light layer all over the pizza, leaving about 1/4-inch crust around the edges. Chop half of the pepperoni and sprinkle it over the sauce. Top the pizza with grated cheese and the rest of the pepperoni. Season with black pepper.

Cook the pizza:
If you're using a pizza stone, carefully slide pizza into the center of the preheated pizza stone. Cook for 6 minutes, then rotate the pizza halfway so it cooks evenly. Cook for another 6-8 minutes, or until the crust is golden brown and charred in spots.
If you're using a skillet, press the dough into a cast iron skillet and add toppings. Place the skillet over a high heat burner for 2 minutes to get it preheated and get the crust cooking right away. Then transfer to a 500 ̊F oven and bake for 10 to 12 minutes, or until the crust is golden brown.
Slice and serve:
Use pizza peel to slide pizza out onto a cutting board. Let the pizza rest for a minute and slice into pieces. Season with fresh oregano (optional). Serve while warm with a side salad.
Ranch Dip
Mix mayonnaise and sour cream together.
Add spices, herbs and Worcestershire sauce and mix well.
Cover dip and refrigerate for 30 minutes or overnight for flavors to mingle.
Stir before serving.
Enjoy!