Qmee recipes – fruit and spice soda bread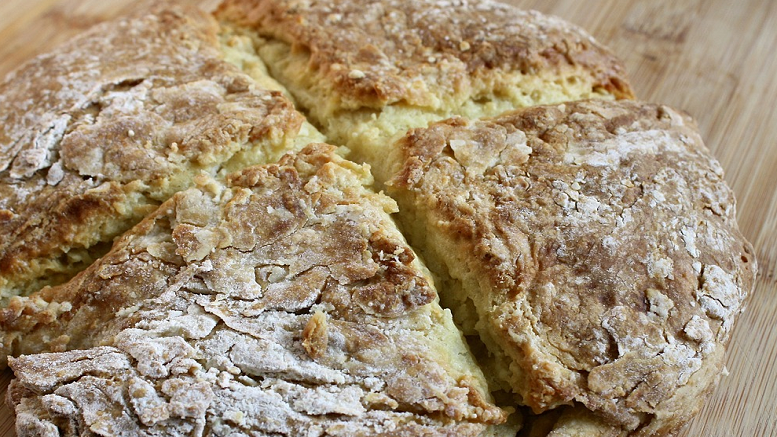 As St Patrick's Day is only a week away, our recipe this week is something traditionally Irish – soda bread!
Why not try baking this delicious loaf, sweetly spiced with fruit and oats, that uses bicarbonate of soda instead of yeast. It'll be a great treat for the family on St Patrick's Day.
Take a look at the ingredients you'll need and the method you'll need to follow.
Here's what you'll need…
100g rolled porridge oat
25g butter, diced
200g plain flour
200g plain wholemeal flour, plus extra for dusting
100g caster sugar
1 tsp bicarbonate of soda
1 and a half tsp mixed spice
50g raisin
50g sultana
50g stoned date, finely chopped
3 tbsp mixed peel
450ml buttermilk
3-4 tbsp demerara sugar
Here's what you'll need to do…
1.Heat oven to 200C/180C fan/gas 6.
2.Whizz the porridge oats and butter together in a food processor, or rub the butter into the oats with your fingertips in a big bowl.
3.Stir in the flours, caster sugar, bicarb, mixed spice, 1 tsp salt, the raisins, sultanas, dates and mixed peel.
4.Pour over the buttermilk and quickly stir in with a round-bladed knife.
5.Tip out onto a flour-dusted surface and gently bring together into a ball with your hands.
6.Transfer to a flour-dusted baking sheet and scatter over the demerara sugar, pressing it into the top.
7.Use a sharp, flour-dusted knife to cut a big cross in the top and bake for 30-35 mins until crusty on the outside.
8.Eat warm or cold, thickly sliced, with butter.
(Source: https://www.bbcgoodfood.com/recipes/fruit-spice-soda-bread)