Qmee recipes – halloumi with chickpea salsa & couscous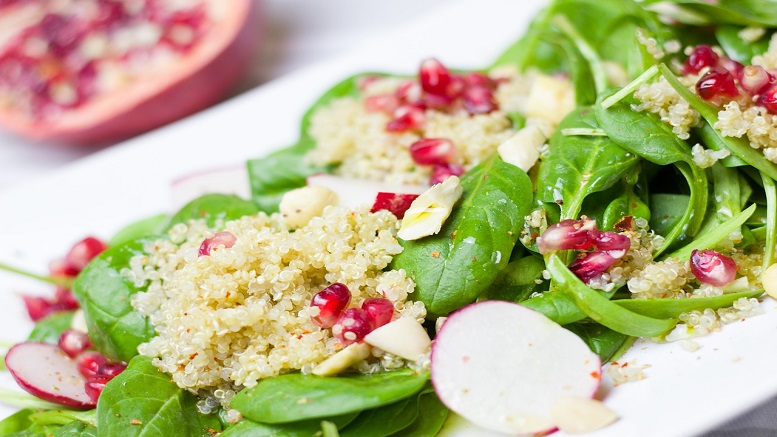 Halloumi is one of the most popular types of cheese, with both vegetarians and meat-eaters! So, we've chosen a recipe this week that has halloumi as one of the main ingredients.
This stunning salad is quick, easy to make and packed with flavour! It includes halloumi (as we've mentioned!), chickpea salsa and couscous – it sounds delicious already!
Many people don't believe salads can fill you up, and that they aren't "enough" for dinner – but try this one out and you may just change your mind. Or, if not, you have a new salad to try for lunch, during a busy day when you need something quick and easy to make!
Take a look at the ingredients you'll need and the method you'll need to follow.
Here's what you'll need…
250g (2 cups) couscous
250ml hot vegetable stock
400g can chickpeas, drained
140g cherry tomato, halved
3 tbsp olive oil
3 tbsp sherry vinegar or red wine vinegar
1 red chilli, half deseeded and finely chopped, half sliced
Small bunch each mint and coriander leaves, chopped
250g pack halloumi cheese, thickly sliced
Here's what you'll need to do…
1.Put the couscous in a bowl and pour over the hot stock.
2.Cover with cling film, leave to stand and swell for 10 mins.
3.Make the salsa by mixing the chickpeas with the tomatoes, half the oil and vinegar, the finely chopped chillies and some of the chopped herbs.
4.Season and arrange between 4 serving plates.
5.Heat a griddle pan or frying pan. Fry the halloumi for 2-3 mins each side, until golden and lightly charred.
6.Fluff up the couscous with a fork and mix in the rest of the oil, vinegar and herbs with some seasoning.
7.Pile onto the plates next to the salsa and top with the warm halloumi.
8.Garnish with the sliced chillies.
(Source: https://www.bbcgoodfood.com/recipes/halloumi-chickpea-salsa-couscous)